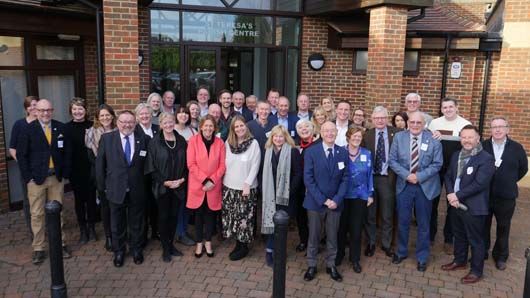 We were delighted to welcome over 50 people to our AGM meeting last week. Trustees, Ambassadors, Patrons, staff, friends, colleagues and supporters all joined us for the meeting, which was the perfect place to share Greenfingers Charity's exciting plans as we head into 2019, our 20th Anniversary year.
President, Richard Jackson took us back to when the charity was first founded in 1999, based on the seed of an idea that he had to bring together the charitable efforts of the garden industry, which has now grown so successfully into Greenfingers as we know it today, helped along by the generosity of our corporate partners including Kew Green Hotels who have pledged to raise another £200k this year.
We plan to finish a further four hospice gardens thanks to the tireless work of our supporters. Work has already started on Grace House in Sunderland, Richard House in East London, Claire House in the Wirral and Little Harbour in St Austell. It was great to hear from the designers about what inspired their plans for each of these gardens.
As well as outlining fundraising initiatives such as Garden Re-Leaf day on March 22nd and a Car Rally to launch at GLEE in September, we also heard from Kate Gould who shared an insight into her design for 'The Greenfingers Charity Garden' which will be on display at RHS Chelsea Flower Show in May. This garden is a hugely important opportunity for us to raise even more awareness about the charity, so that more gardens can be built at children's hospices across the country.
We took the opportunity to celebrate our Chairman, John Ashley's 80th Birthday. John described his delight at being at the helm of Greenfingers at the beginning of this special anniversary year: "We have been on an incredible journey since the early days and are all enormously grateful to every one of our wonderful individual and corporate supporters who continue to work tirelessly to supporting by fundraising, helping us to fund-save, and build the Greenfingers Charity brand. We are all looking forward to an exciting year ahead and to see these new gardens coming to life and being enjoyed by hundreds more children who would otherwise find it difficult to spend time outside."