The Garden of Colour at Claire House Children's Hospice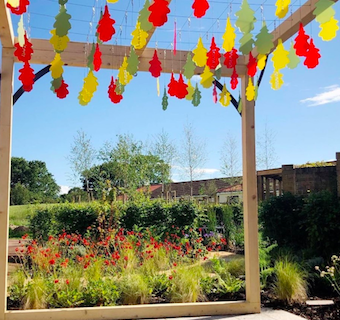 We're very excited to have opened 'The Garden of Colour', at Claire House Children's Hospice in Bebington, Wirral. The garden was completed in June 2019, with an official opening ceremony led by nine-year-old Leon Paul Salamanca who uses the hospice services.
'The Garden of Colour' was designed and created by award-winning designer Carolyn Willitts of CW Studio and Cheshire-based landscapers Landstruction, the brief being to create a garden which provides a 'sensory feast'.
The original space lacked hard landscaping suitable for wheelchair access. It has now transformed into a multi-functional garden, giving children in wheelchairs and beds an outdoor environment for play, learning, therapy and rest. Talking about the project Carolyn said: "This garden is to be a place with a feeling of intimacy and escape... a journey where, for a moment, you can be immersed and feel calm. We wanted to inject colour, humour, curiosity, and whimsy along the way, inspiring stories and interactive play".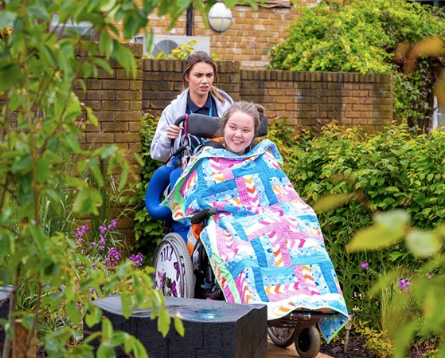 The journey starts at the 'Creation Station', where children and their families can get their hands dirty and experience nature, up close and personal, whatever the weather. It passes through 'Falling Leaves', where multi-coloured perspex leaves hang perfectly to catch the light throughout the day. 'Rainbow Meadow' follows, then a space for reflection called 'A Quiet Place' and finally, 'Birch Hill', where wildflowers, long grass and spring bulbs line a meandering, mown path through the trees.
Clare Doig, a palliative care nurse specialist at the hospice commented at the opening ceremony: "This fabulous garden... it's amazing. A lot of our children need a lot of sensory input and the garden is full of colour... We've already noticed a lot of birds, bees and butterflies have come to the garden."
Greenfingers Charity's 56th magical garden would not have been possible without the help and support of many, including the ongoing kindness of Kew Green Hotels, GIMA, the HTA, the GCA and funding from the Postcode Local Trust, a grant-giving charity funded entirely by players of People's Postcode Lottery; as well as the many generous charitable Trusts and Foundations who provided grants to support the garden. Also everyone who has tirelessly fundraised at our annual Garden Re-Leaf Day activities, as well as others who have donated gifts in kind, including Chris Nangle, Hardscape, Vestre, Kinley, CED Stone, Green-tech, Infinite Playgrounds, Cacoon World/Mojosi, Laser Lea, Woodlodge, Zest 4 Leisure, Vegepod, Barton Grange, and Burleydam Garden Centres.
Linda Petrons, Greenfingers' Director of Fundraising & Communications said: "We must thank all the individuals, groups, businesses, Charitable Trusts and Foundations, who have supported Greenfingers Charity and made the building of this wonderful new garden at Claire House Children's Hospice possible through their continued generosity. This new magical garden will now provide life-limited children and their families with a place to create a million memories and a provide a sanctuary of care which would not be possible without the help of so many wonderful friends of Greenfingers."
The finished garden is providing so much pleasure to the children, families and staff at Claire House and congratulations to CW Studio who won the Specifi Manchester Landscape Project of the Year Award for this fantastic garden!
Take a look at our Picture Gallery for more pictures of the project as it has progressed.