Charity donations
Charity donations make the central engine as a non-profit organisation, that runs our cause of building special gardens for children in the country's hospice system. We have a number of patrons, especially in the gardening community and hotel sector, but we need a lot more to achieve our goal of making a specialised magical garden for the children of every hospice care centre in the country.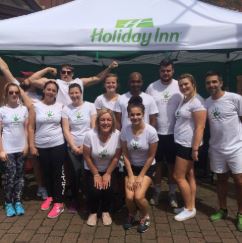 Ways to give your charity donations for our cause
There are many ways you can donate for our cause of building Greenfingers Gardens across the country's hospice system. The most successful ones include:
Corporate Partnerships: We have a number of patrons in the business community who have a spectrum of charity relationships with us. Some of them have given one-off donations, some others do it regularly, while many others come up with creative ideas to raise funds for us.
Organising Charity Events: Another very popular way of donating is to organise a fundraising event. You will not need to personally donate money or even spend any on the activity you plan to have for your fundraising event (You can find a sponsor among local businesses). There is a tonne of ideas that our fundraising partners use, including bake sales, tea parties, car washes, crafts sale, etc. They connect with us and we support their events as best we can.
Community Efforts: If you are part of a large group of people, such as a school or business organisation, there are countless ways in which you can ensure charity donations for Greenfingers Charity. Connect with us and we will help you find a suitable way.
Volunteering: You can also volunteer for helping us during the construction of a magical garden we are building near you. It would save us the cost of paying for services and put that money in our pool of donations instead. We have volunteer days for different phases of every garden project we take over where you and your team can provide labour voluntarily.
Fund saving: Speaking of saving, another great way of helping us raise funds is to donate gifts and services during our events so we can save that money and put it in the donations jar.
It is about starting from somewhere
Greenfingers Charity and its cause is a popular one in many parts of the country. So, once you associate yourself with our fundraising efforts, you can find a lot of patrons willing to sponsor your activities and helping your event in any way they can.
Engage in charity donations for our gardens
If you are able to donate personally, or as an organisation, that will be great. However, if you are planning a fundraising event, you can request our team's presence at the event with literature and tee shirts to make your event authentic. Call us today for help or information about charity donations for our cause.