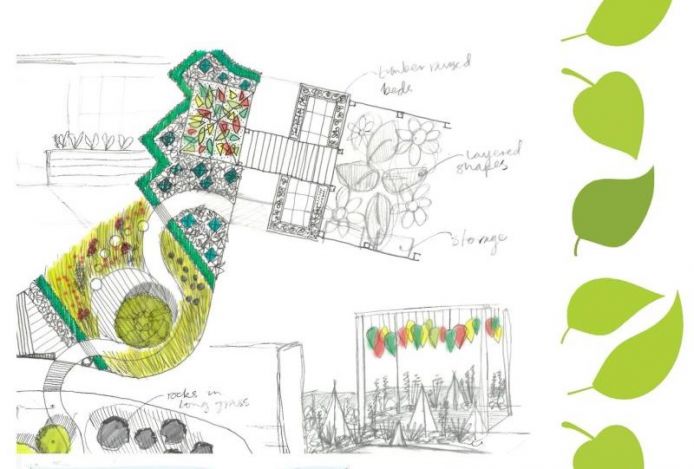 Greenfingers Charity has got off to a great start to 2019, with three more children's hospice gardens getting underway, as well as planning for a fourth.
Sean Murray's design for a 'Nest and Rest Garden' at Grace House will be completed in the Spring. It will provide a wonderful outside space for the children, families and carers who spend time at this fantastic facility in Sunderland. Sean won the BBC's Great Chelsea Garden Challenge 2015 and his therapeutic design incorporates sensitive planting and sheltered spaces for relaxation and respite, as well as an interactive water feature.
A one-acre woodland area at Richard House Children's Hospice in East London will be transformed thanks to the vision and creativity of garden designers Andrew Fisher-Tomlin and Dan Bowyer. Andrew and Dan have been working with the hospice to design an enchanting and wheelchair-accessible woodland, in which life-limited children and their siblings will be able to have fun, explore and play together knowing medical support is close at hand.
Carolyn Willitts is working on final designs for her 'Garden of Colour' for Claire House Children's Hospice on the Wirral, some of which are shown in the illustration. As well as being a feast for all the senses, this garden will provide shelter to enable hospice carers and families to work and play outside.
And Little Harbour Children's Hospice in St. Austell, Cornwall will be the proud owner of a beautiful new garden later this year, designed by Darren Hawkes. He takes his inspiration from the landscape that surrounds him and loves to highlights shapes both in foliage and form, as well as colour. Plants and hard materials will be combined to create a harmonious feel, to create a vibrant outdoor space.
Having already created 55 magical gardens magical gardens for life-limited children and their families in its 19-year history, Greenfingers is so excited to see four more coming to life, to be enjoyed by hundreds more children who would otherwise find it difficult to spend time outside. Huge thanks to each of our individual and corporate supporters, who work tirelessly in the fundraising so that we can make these gardens possible.