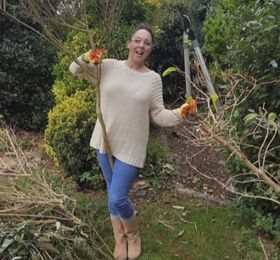 We are delighted to announce that work has begun at the 54th Greenfingers Garden at Andy's at St Andrew's Hospice in Grimsby.
On Monday 23rd October, Garden designer Jody Lidgard and his award winning team at Bespoke Outdoor Spaces began phase one of the project, which will see the existing space transformed into a magical pirate themed garden. The multi-functional garden will be used for play, learning, therapy and rest and will feature lighting and water elements that will provide an all-round sensory experience for children and their families to create precious memories in.
Help from Kew Green Hotels
All hands were on deck as staff from Kew Green Hotels, a Greenfingers Charity Partner, took loppers to overgrown hedges to prepare the garden for its much-anticipated transformation. Kayleigh Westerman from Holiday Inn Lincoln, a hotel managed by Kew Green Hotels, commented:
"It was a fantastic day! We all really enjoyed being able to do our bit in helping. We can't wait to be to go back when it's nearly done and see it, and hopefully help out a bit more."
To find out about other Greenfingers gardens currently being transformed into magical spaces, please visit our Gardens in Progress page.