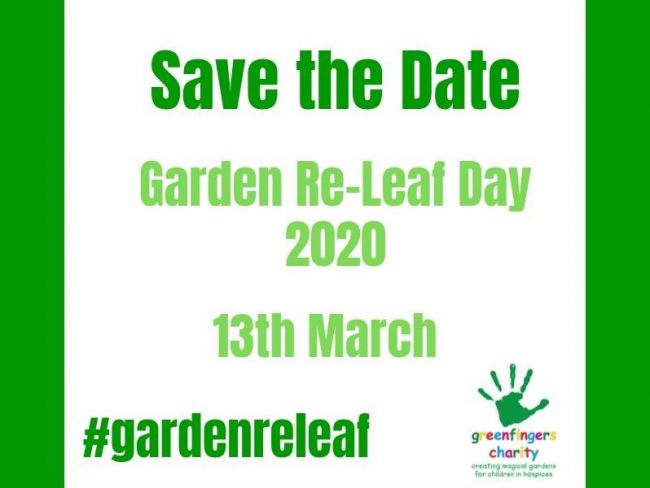 The 2020 Garden Re-Leaf Day event was officially launched at Glee today with Greenfingers Charity calling on all sectors of the garden industry and others to get involved in this exciting and pivotal part of the garden retail calendar.
Greenfingers Charity is delighted to announce that the 2020 event will take place on Friday 13th March and will once again include the popular Garden Re-Leaf Walk and Cycle Challenge, as well as other FUNdraising events which will take place across the country.
Garden retailers, manufacturers and suppliers are invited to participate by holding their own events, like a quiz night, raffle, auction, cake sale, virtual in-store challenge, spending the day in fancy dress or making a donation from every cuppa sold in the café. It really is a great FUN way to increase footfall or awareness whilst at the same time engage with customers, motivate your team and raise your profile both locally and in the garden industry press. There really is no better way to start the gardening season!
Garden Re-Leaf has raised over £55,000 this year, taking the total to £600,000 since it was founded by Boyd Douglas-Davies in 2012. 2019's highlights – which also coincided with the charity's 20th anniversary – saw over 120 people take on the Garden Re-Leaf Walk and Cycle Challenge in Buckinghamshire. Garden centres across the country got into the FUNdraising spirit with curry and quiz nights, charity walks and bike rides, garden centre tours, coffee mornings, raffles, planting weekends and much more. Suppliers also dug deep and held car washes and barbeques, bike rides and fun-for-all-the-team events such as the mushy pea challenge and summer fetes. QVC also showed its support once again with a £1.50 donation from every plant or product sold during a special Garden Re-Leaf/ Greenfingers show.
Linda Petrons, Director of Fundraising and Communications at Greenfingers Charity said: "The support that the garden industry has shown for Garden Re-Leaf Day has always blown me away. Seeing so many different events take place to celebrate the day, to kick-start the gardening season, and to raise money for Greenfingers, is such an exciting and touching thing. I know it is appreciated so much by everyone at Greenfingers, and also by the children, their friends and families who enjoy time in a garden created by Greenfingers. I am sure the 2020 event is set to be even bigger and full of even more incredible events, demonstrations of support and the endless enthusiasm that makes the garden retail sector such a joy to be part of."
You can register for Garden Re-Leaf Day 2020 on our website here.