RHS CHELSEA FLOWER SHOW 2019 – THE GREENFINGERS CHARITY GARDEN

With thanks to the generosity of a private donor, Greenfingers Charity were lucky enough to have a Show Garden at the 2019 RHS Chelsea Flower Show. The Greenfingers Charity Garden was designed by designer, Kate Gould. Kate won a Silver-Gilt Medal, of which we are incredibly proud.
About the Greenfingers Charity Garden
The garden was designed to be a calming, interactive and uplifting space to resemble one of our hospice gardens – where life-limited children with complex needs, their families, friends and carers can come
together for play, relaxation or peaceful reflection.
The landscaping and plant content had to be thought through very carefully, with access for wheelchairs a high priority and the lush green garden was set over two levels, with a lift and sloped walkways. With its sensitive planting and magical water-feature, the innovative garden design highlighted and promoted the therapeutic benefits of the outside spaces created over the past 20 years by Greenfingers Charity. Many parts of the garden have gone to Richard House Children's Hospice in East London.

The Plant List with plants from Greenfingers Garden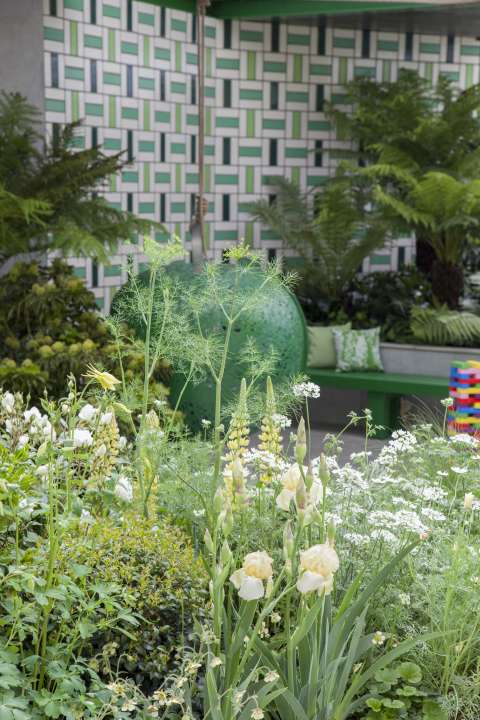 You can download a list of all the plants used in our Greenfingers Garden. The plant colour palate was fresh and predominately green and white, with flashes of yellow. Around 2000 plants made it onto the Show Garden including:
Aspidistra elatior, commonly known as the Cast Iron Plant,fully capable of dealing with poor light, murky conditions.
Hosta 'Devon Green', a chance sport of Hosta 'Halcyon', forming dense, medium sized hummocks of heart-shaped leaves
Hosta sieboldiana bearing dramatically large, channelled, puckered leaves
Dicksonia antarctica, a relic of the Jurassic and Cretaceous periods. Named in honour of James Dickson, 1738-1822, a British nurseryman. The 'trunk' is the decaying remains of earlier growth and forms a medium through which the roots grow.
The garden also showcased our very own plant; the 'Choisya Greenfingers', sales of which will generate royalties for the Charity. Hardy tropicals, textured foliage and grasses such as Carex 'Ice Dance', Deschampsia 'Tatra Gold' and Stipa tenuifolia gave the space a tropical feel, whilst topiarised domes of Carpinus betulus and Taxus baccata will add height and architectural detail, as will plants such as Angelica archangelica and Acanthus 'Rue Leden' with its characteristic scrolling foliage, bringing classic elegant green architecture.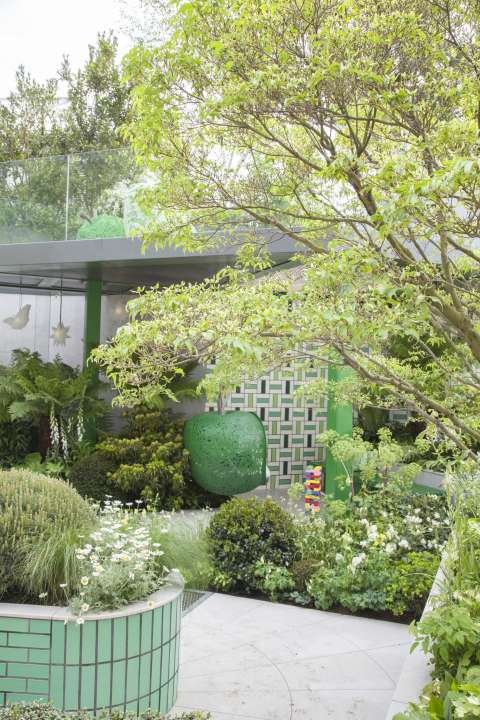 When choosing trees and shrubs, uppermost in Kate's mind were species that could withstand sun and wind exposure. For the upper deck Acer ginala was a must – a small maple standing at around four metres high with deciduous leaves, perfect in a garden setting such as this. Other trees selected include, Hippohae rhamnoiodes, Pinus nigra, Amelanchier canadensis and Arbutus unedo, as well as other evergreens, many of them kindly donated by Majestic Trees.

The calm of the green and white palate was be broken up with tones of yellow courtesy of Iris 'Benton Primrose',Lupinus 'Gallery Yellow' and the glorious Peony 'White Emperor', a semi-double form boasting white flowers from deep cups around a centre of soft yellow stamens and white carpels. Fans of pretty perennials could enjoy creamy lemon-tinted stunners like Aquilegia chrysantha 'Yellow Queen' and RHS Plant of the year 2011 Anemone 'Wild Swan'.

Hard Landscaping
The lower pathway was made from expanded mesh which had lots of lush green planting beneath it. The walkway transversed over 60cm and over a distance of 12m, it was 1.4m wide in order to make it wheelchair friendly. The upper walk way structure was made of DesignBoard, a durable composite decking, which was supplied by London Stone who kindly donated many of the building materials.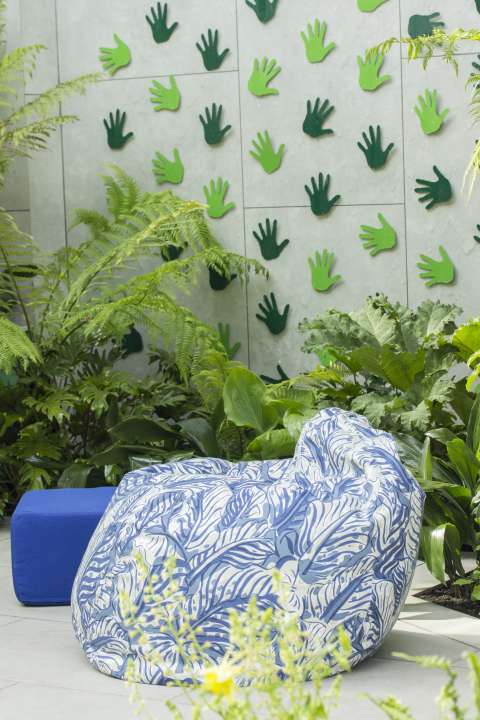 Every good garden has a water feature of some sort and The Greenfingers Charity Garden was no exception. The water feature that Kate designed for the garden was an upright wall, with powder-coated metal hands scattered on the front. As water travels down the wall and passes over a weight on the back of the hands, they could move and seemingly wave.
Levels
The garden was set on two levels and the mode of transportation from lower to upper level was by lift. The lift was 1100cm x 1400cm on the base platform to allow a wheelchair user, a carer or family member to stand with the child. The lift was constructed out of powder-coated metal to match the rest of the structure. The challenges of building this structure were making it look as elegant as possible while maintaining functionality and for it all to blend into the garden seamlessly.
Garden Art
Garden art was incorporated through interesting wire work fruit sculptures by Emma Stothard. Craft experts Linum Loom donated a novel apple swing seat. What better way to stimulate little minds!
Lighting
Landscapeplus donated lighting to make the garden as usable as possible in the real world. Kate worked in conjunction with the team to create a series of interactive fibre-optic light shapes, a leaf, a cloud and others which will were activated by a series of buttons to engage the children.

Furniture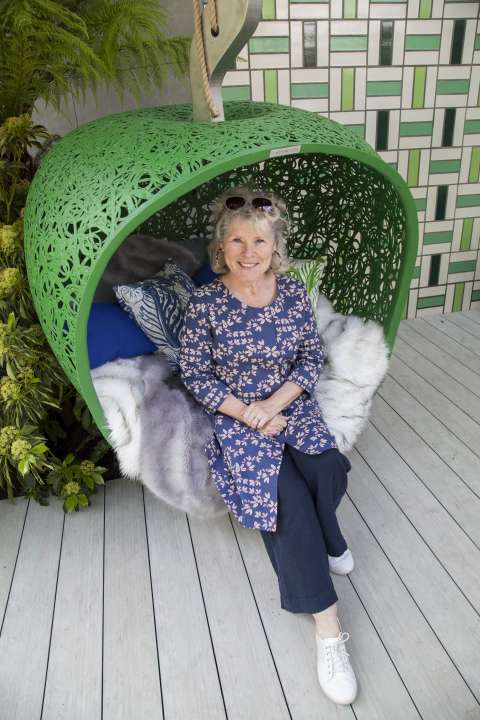 A fun cargo net donated by South West Play hung on the upper deck for kids to relax in, take in the view and watch what was going on in the garden below from a height advantage! Kate chose matching fabrics in vibrant prints, plain and geometric patterns from Christopher Farr Cloth to add a sense of fun and compliment the scheme, which were turned into a selection of bespoke cushions and beanbags by the Outdoor Cushion Company.
The colourful glazed bricks by Ibstock Bricks seen on the back wall and part of the sloped walkway on the lower level were to create interest and bounce the light around as the glazing created a superb reflective surface. Oxford Planters generously donated comfortable yet robust seating.
Lynch Plant Hire provided all the machinery for putting the garden together and Concrete Singh the concrete for the foundations.
Huge thanks to everyone who made this garden possible!
The Greenfingers Charity Garden was made possible thanks to the generosity of a private donor. It presented the charity with a great opportunity to highlight the difference it has been making to hundreds of life-limited children and their families every year, for the past 20 years. This was the first Greenfingers Charity Garden at the RHS Chelsea Flower Show and Kate Gould's first full-sized Main Ave Show Garden at Chelsea. We hope that our presence at the Chelsea Flower Show will continue to raise awareness of our work and in turn allow us to build many more gardens in the future.