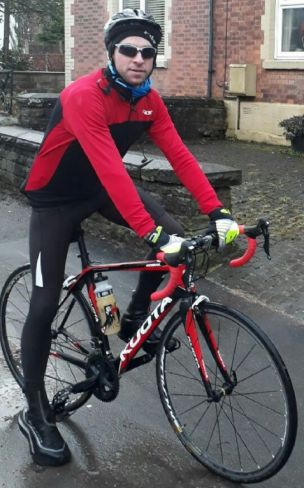 Greenfingers Charity is inviting their supporters to put their pedal power to the test this spring by taking on an inspiring new Cycle Challenge for Garden Re-Leaf Day.
The event, which takes place on Friday 16th March, will now feature a new Cycle Ride Challenge for bike enthusiasts.
The route will start in World's End Garden Centre, Wendover and take in the scenic Chiltern hills and idyllic countryside. There will be two routes available, 50 miles and 100 miles .
The inaugural Garden Re-Leaf Cycle Ride Challenge was an idea put forward my Matt Jackson (Mr Fothergill's) and David Nicholson and Louise Hoskins. (Elho) who are all keen riders.
Linda Petrons, Head of Fundraising and Communications at Greenfingers Charity said: "We are delighted to introduce this Cycle Ride Challenge to Garden Re-Leaf Day. This challenge is certainly not for the faint hearted and will require grit and endurance to get to the finish line. This challenge will also be fun and is great way of doing something for yourself and achieving a personal goal, whilst raising money to bring the gift of a garden to children in hospices across the UK."
As well as the Cycle Ride Challenge, the popular Garden Re-Leaf Day Walk will take place and is still open for entries. Also starting and finishing at Wyevale's World's End Garden Centre, Buckinghamshire, there be two routes available this year. You can either take a "gentle" 10 mile stroll, or complete a more challenging 20 mile route through the Chilterns. The popular Plantathon will return with Greenfingers calling for garden retailers across the country to pot up as many plants as possible in a 12 hour period, to sell to customers with proceeds to going to Garden Re-Leaf.
Luke Murphy, Marketing Manager for Glee, is a keen Garden Re-Leaf supporter and regular. He said: "I have always taken part in the walk with the Glee team. The walk itself is always great fun, I have completed two now and each one has been filled with laugher and is a great chance to catch up with friends and customers in the gardening industry. Glee loves to support Greenfingers and is always on the lookout for new ways of promoting them, whether this be at the show in September or throughout the year."
To sign up or register your own event, please do not hesitate to visit the Garden Re-Leaf page, it's an unmissable day in the garden industry calendar and can be great fun! www.greenfingerscharity.org.uk/gardenreleaf
If you want to find out more about how to get involved in Greenfingers Garden Re-Leaf Day 2018, whether by putting on events in your garden centre, through sponsored solo activities or simply by donating - contact the Greenfingers office on 01494 674749 or email Linda@greenfngerscharity.org.uk.