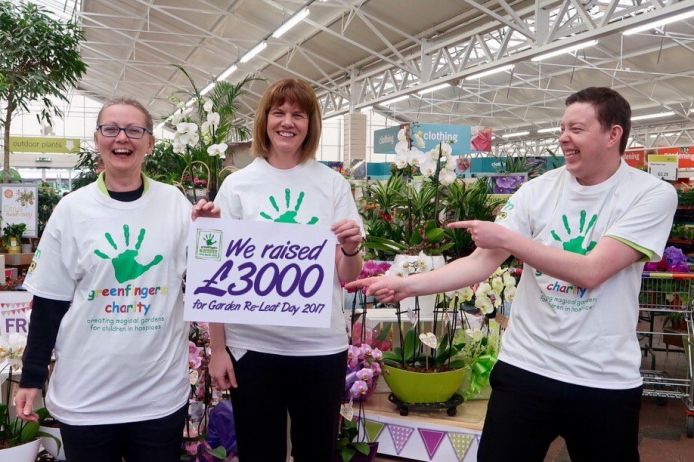 Following a truly fantastic Garden Re-Leaf Day this year, Greenfingers Charity is delighted to announce 2018's event will take place on Friday 16th March and with some new exciting events planned for next year promises to be even bigger than this year…more details of new events will be revealed in the coming weeks...
However we can tell you that the Garden Re-Leaf Day Walk will take place once again and is now open for entries. Starting and finishing at Wyevale's World's End Garden Centre, Buckinghamshire, there will once again be two routes available this year; a gentle 10 mile walk or a more challenging 20 mile route through the Chilterns.
The popular Plantathon will return with Greenfingers Charity calling for garden retailers across the country to pot up as many plants as possible within a 12 hour time frame. Sponsored to plant from dawn to dusk, many garden centre teams have had brilliant fun with this challenge, going on to upsell their pots with a donation from each going to the charity.
If walking or hosting a Plantathon aren't for you, there are loads of other ways you can get involved. From holding a quiz night, virtual in-store challenge or making a donation from every cuppa sold in the café. However you choose to support Garden Re-Leaf Day, it really is a great FUN way to increase footfall and at the same time engage with customers, motivate your team and raise your profile both locally and in the garden industry press, what better way to start the gardening season!
Linda Petrons, Head of Fundraising and Communications at Greenfingers said; "In 2017, a staggering £100,000 was raised, and with your support, we are hoping 2018 will be even bigger. Whether you are a retailer, supplier or lover of all things gardening we encourage you to get involved with our Garden Re-Leaf Day events or organise your own event or promotions to raise vital funds to help make a difference to children and families who spend time in hospices."
You can sign up to take part in Garden Re-Leaf day by visiting the Greenfingers Charity website www.greenfingerscharity.org.uk/gardenreleaf
If you want to find out more about how to get involved in Greenfingers Garden Re-Leaf Day 2018, whether by putting on events in your garden centre, through sponsored solo activities or simply by donating - contact the Greenfingers office on 01494 674749 or email Linda@greenfingerscharity.org.uk.