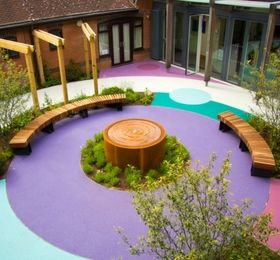 Greenfingers Charity commissioned TV Gardener Adam Frost to design the new Courtyard Garden at Keech Hospice, Luton with the help of team members from Homebase. As an existing good friend of Greenfingers, the charity was delighted to invite Adam to perform the official opening ceremony held on Monday 17 July 2017.
This is the 53rd therapeutic and recreational garden built by Greenfingers Charity in children's hospices around the UK from the Isle of Wight to Loch Lomond. Funding for this project very much relied on the generosity of Homebase DIY chain who have been donating all the 5p carrier bag tax collected since the levy was introduced in October 2015.
The original plain space was transformed from a drab concrete courtyard with the muscles and resources of Jody Lidgard and his team of skilled craftsmen at Bespoke Outdoor Spaces.
They created a colourful, three-dimensional garden with easy access for wheelchairs using plants that will delight all the senses of the adults and children who spend time at Keech Hospice Care and their visitors.
This team will also be commissioned by Greenfingers Charity to work on the design and build at another children's hospice garden in the grounds of St Andrew's Children's Hospice, Grimsby – due to be created later this year.
Additional funds were also raised by bride and groom, Jacquie and Paul Hutt, who asked guests at their 2015 wedding to make a donation to Greenfingers Charity in lieu of gifts.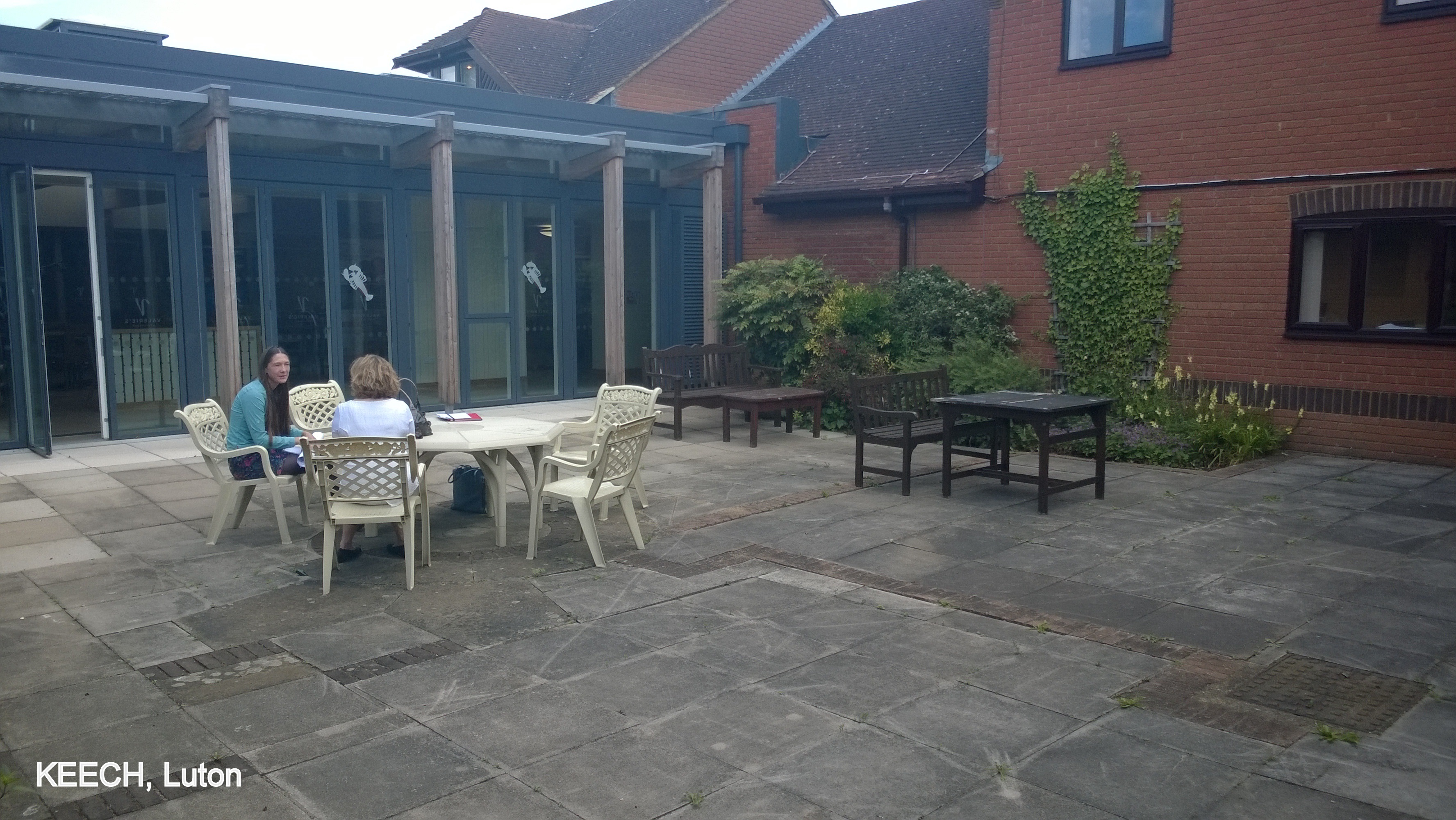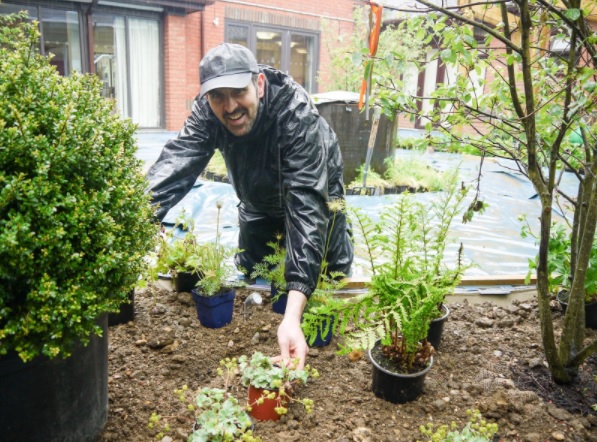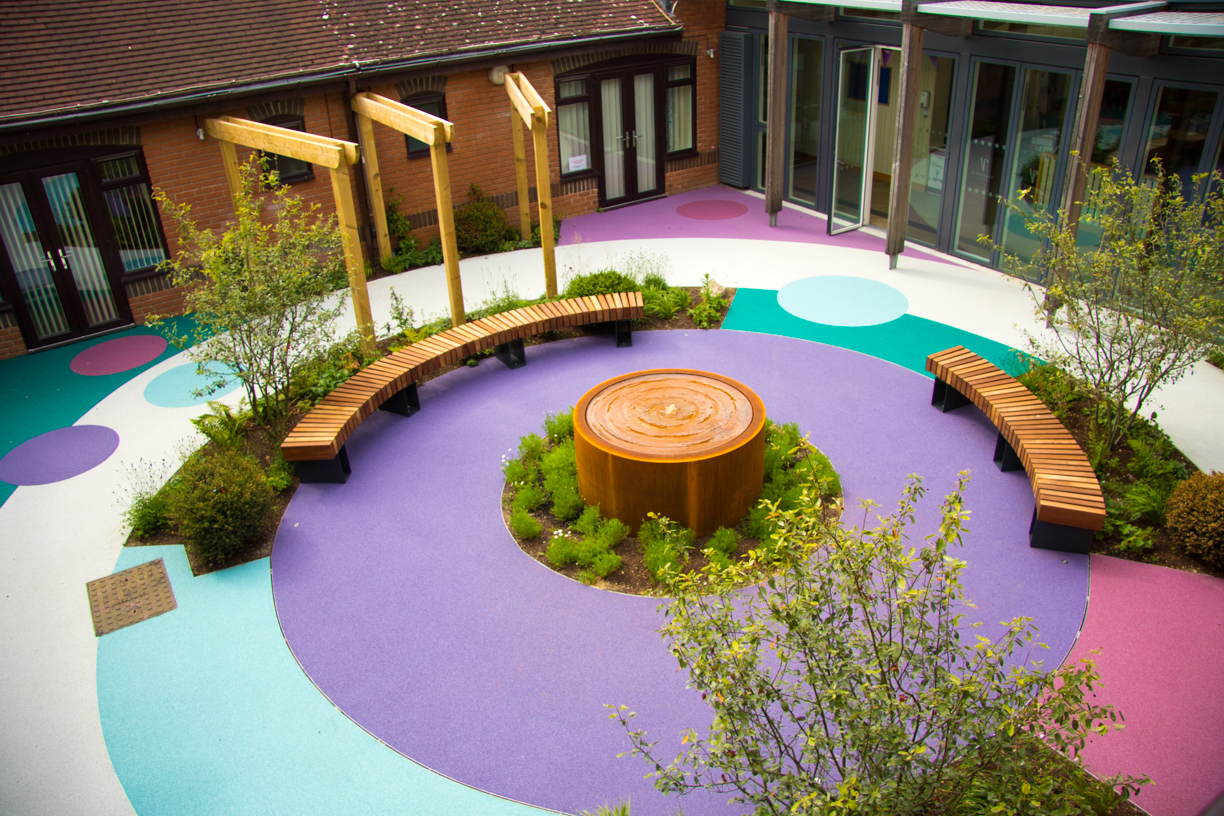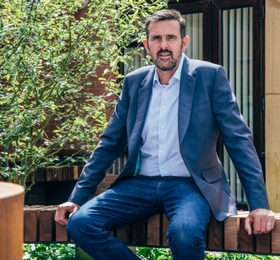 Speaking at the opening, Adam Frost said, "I hope this Courtyard Garden surprises people to start with and then puts a smile on their faces. It's a wonderful space which seriously ill adults and children can use in many different ways."
Until now the garden at Keech Hospice Care, which supports adults from Luton and South Bedfordshire, and children from Bedfordshire, Hertfordshire and Milton Keynes, has remained relatively bereft of interesting plants or features since the hospice opened twenty-six years ago.
Adam said he designed the new garden to be a vision of bright colours, with a water feature at its centre and chose bold circular patterns to take visitors on a journey. "I didn't want to be too clever, but it's not just any place we are creating. It's a space that mums and dads and their kids will use and where patients can look out to when they're being cared for and having their complementary therapy.
"I've tried to bring wildlife and the garden inside the hospice and give patients here at Keech Hospice Care a place that is calm and reflective," said Adam.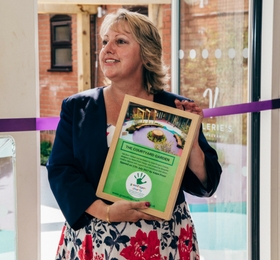 Liz Searle, Chief Executive Officer at Keech Hospice Care, said "The new garden will give patients and their families a space to relax at a time in their lives when it matters the most."
She continued, "It's the perfect place to just sit and be still. It provides a beautiful space for the opportunity of reflecting, relaxing and escapism not only for patients but also our excellent care team and volunteers. At a time when a person needs peace and quiet or when families want to sit, laugh and make memories – Adam's garden will be there.
"We all love the bright colours of the garden as we are a hospice full of life! It's a real oasis, it's magical. We'll be showing it off to the public at KeechFest on Sunday, 10 September 2017 as we invite everyone to buy tickets and join us for an afternoon of live music here at Keech Hospice Care."