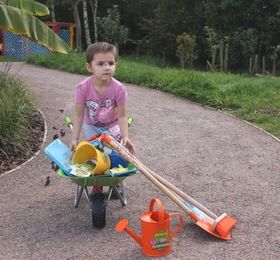 Monday 22nd to Friday 26th May marks a special time in the hospice calendar; Children's Hospice Week, the only week dedicated to raising awareness and funds for life-limited children and their families, and the services that are there to support them. Greenfingers Charity are 'turning up the volume' in support of Children's Hospice Week, raising awareness of the difference a magical garden can make to a child spending time in a hospice.
---
In Autumn 2014 we finished work on a wonderful 'Grow Your Own' garden at Little Havens Children's Hospice in Essex.
Our focus was to create an engaging and fun outdoor space that would encourage children spending time in the hospice to interact with the natural world.
We worked with local company Eden Horticultural to transform a vacant patch of land into an abundant and lush fruit and vegetable garden where children spending time in the hospice could get involved in growing and harvesting crops.
Perhaps most recognisable is the magical circus-style 'big top' area that is surrounded by colourful plants….
Liquidamber Styraciflua
Prunus Autumnalis
Alchemilla Mollis (Yellow)
Gaura lin. 'Siskiyou Pink'
… giving children a visually exciting garden space to play in.
The garden also caters for more sensitive activities, such as individual and family therapy sessions.
Lindsay Stone, Senior Nurse from Little Havens Hospice, spoke about the garden: 'Caring for a child with a serious illness can be stressful and exhausting which is why families turn to Little Havens for a much needed break. Our gardens are an integral part of the care we provide, giving families the chance to enjoy a bit of peace and quiet together.'
If you would like to support Greenfingers Charity and help to create more magical gardens for children, and their families, spending time in a hospice, please contact us at info@greenfingerscharity.org.uk or visit our Get Involved Page.