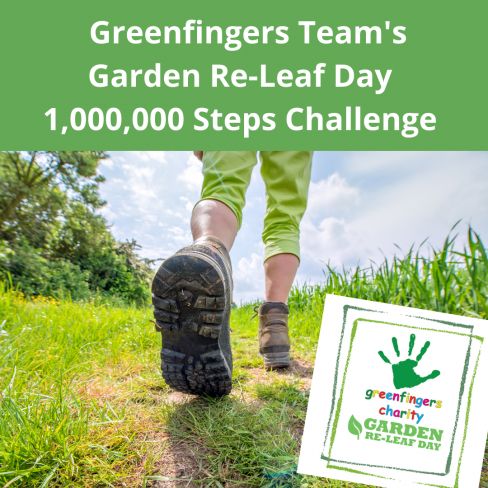 As Garden Re-Leaf turns 10 in 2021, it seems only right that the team at the Greenfingers charity celebrate in style with their own FUNdraising challenge – ladies and gentlemen, get ready for the One Million Step Challenge!
The Greenfingers team made up of Director of Fundraising & Communications, Linda Petrons, Director of Finance & Resources, Sally Jenkins, and Garden Project Manager, Holly Harrington, have pledged to walk one million steps throughout March 2021, walking no less than 10,000 steps per day. In total the team will have walked over 500miles across the month!
Talking about the challenge, Linda Petrons said: "As Garden Re-Leaf Day is celebrating such a key milestone, we knew we had to do something big to mark the occasion. Obviously with current restrictions we had to think of something that pulled the team together virtually and made the most of the extended window of fundraising. One million steps felt like a great target and as we're all working from home it will be a fun event that we can do as a team and one that will keep us motivated and active for the whole month. We hope that what we're doing will inspire at least 10 other teams to join us! 10 million steps has quite a ring to it don't you think?!
You can sponsor Team Greenfingers here: https://www.justgiving.com/fundraising/greenfingersstepchallenge
Celebrate 10 years of Garden Re-Leaf throughout March
In 2021, Garden Re-Leaf Day, like many events, will take on a virtual element to enable more people to get involved from the comfort of their own homes and offices, and to ensure the necessary social distancing can be maintained. To make things a little easier for individuals and teams working within strict Covid-secure measures, the window of FUNdraising will be extended to the whole of March too. This extra flexibility provides more opportunity for not just the garden retail sector to get involved, but for supporters of the event to enlist the support of friends, family and their local communities, to make the 10th anniversary event the biggest and best yet.
Get involved in Garden Re-Leaf Day 2021
Since its inception in 2012, Garden Re-Leaf Day has been a key event within the garden retail calendar. Each year hundreds of people from across the industry, including suppliers and retailers, come together to undertake an incredible series of fundraising events. During the last nine years the event has raised over £660,000, all of which has gone towards helping the charity design and create magical gardens in children's hospices throughout the country.
Registration for the 2021 event is now live, and Greenfingers is also on the look-out for sponsors of the event. A special FUNdraising pack is also available. To find out more please contact Linda Petrons by emailing linda@greefingerscharity.org.uk