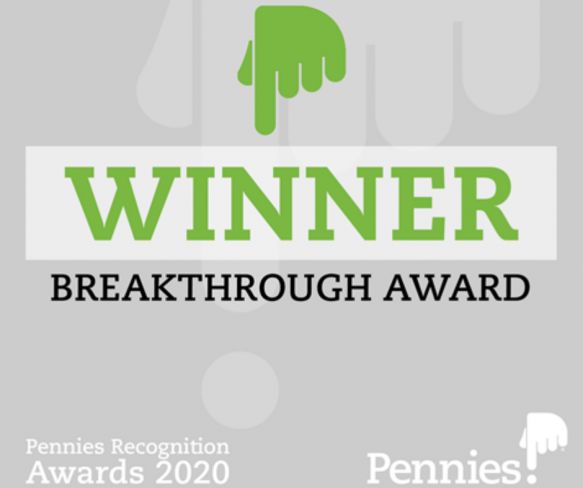 Kew Green Hotels, one of the leading international hotel management companies with over 50 hotels in its portfolio, and Tabletop, a market leader in guest ordering technologies, are joint winners of the Pennies Breakthrough Award 2020. The result was decided by a panel of judges representing leaders in retail, hospitality and fintech from across the Pennies' family and announced via a virtual event on 11th November.
Pennies is a leading UK fintech charity working to protect and grow micro-donations, ensuring people have digital ways to donate the small sums of money so important to charitable causes. Pennies' Annual Awards honour partners that have gone above and beyond to support the micro-donation movement to the benefit of hard-working charities and the people and communities they support.
As one of only five categories recognised at the event, this Breakthrough Award was jointly awarded to Kew Green Hotels and Tabletop for developing the first pay at table solution to integrate the Pennies donation solution – which allows customers to add a small charity donation to their purchase with partner retailers.
 Tabletop offers AI-powered tablet and mobile guest ordering technology which now allows guests at Kew Green Hotels to order, add a micro-donation to charity with Pennies, and then pay at the table. Donations made by Kew Green Hotels customers support the charity Greenfingers, helping build gardens for children in hospices nationwide.
Once fully rolled out, it is expected that £35,000 could be raised every year from micro-donations, contributing significantly to the development Greenfingers gardens. Each garden makes a difference to about 300 life-limited children, their siblings, families and carers every single year.
Chris Dexter, CEO of Kew Green Hotels remarked "We are delighted to be named Winner of Pennies Breakthrough Award. This recognises our collaboration with Tabletop to bring micro-donations to pay-at-table payments this year - helping to raise vital additional funds for Greenfingers charity. Thanks to all of our guests in each of our hotels for making generous donations to Pennies to make this a reality."
Matthew Husselby, CEO of Tabletop added "We were eager to use our technology to raise vital funds for this important cause and we are thrilled to receive Pennies Breakthrough Award alongside Kew Green Hotels."
Linda Petrons, Director of Fundraising & Communications at Pennies Greenfingers Charity noted "The value of the support of Kew Green Hotels and Tabletop is much more than the staggering amount raised. They have helped us to build the Greenfingers Charity brand in a way we could never have dreamt of. Through the advertising and promotion in the reception areas, to the fundraising both inside the hotels and those staff organising walks, dinners and much more, has widened our reach extensively."
For more information, please visit: kewgreen.co.uk , tabletopgroup.co.uk and pennies.org.uk