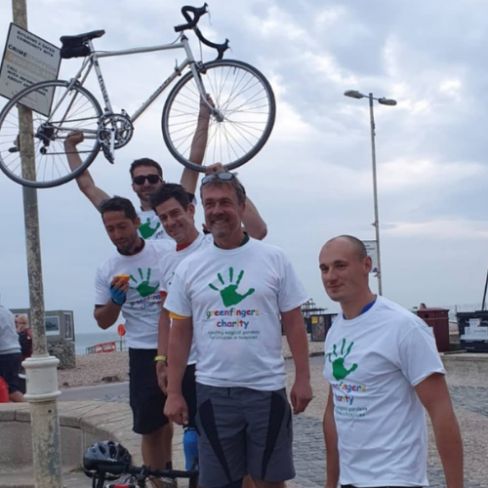 A team of gardeners from The Green Kiwi, a complete gardening services business based in Surbiton, Surrey, donned their cycle shorts to ride from London to Brighton on Saturday (19th September) to raise funds for Greenfingers Charity.
In the warmth of the September sunshine, the team of six, made up of The Green Kiwi, Brent Watt, along with colleagues Paul, Ben, Ant, Thyago and loyal customer Jon, cycled a gruelling 113.20 km in just over 7 hours, raising over £3k for the charity.
Speaking about the ride, Paul Kiernan said: "To have helped Greenfingers Charity grow their funds is something we're all incredibly proud to have been part of. For some of us the ride was the longest we have cycled. But it was thanks to all those who dug deep to sponsor us, and knowing the funds raised were going to such a great cause, that kept us motivated and ensured we crossed the finish line in Brighton. "
Director of Fundraising & Communications at Greenfingers Charity, Linda Petrons said: "We were delighted when we heard that the team from The Green Kiwi had chosen Greenfingers Charity as their beneficiary charity for their London to Brighton cycle ride. It is only thanks to all those who so generously support our work that we can do what we do, creating magical gardens in children's hospices. The money raised really is a fabulous boost to our funds, particularly during these challenging times and will make a tremendous difference to our work – thank you!".
You can find out more about The Green Kiwi by visiting: www.thegreenkiwi.net.