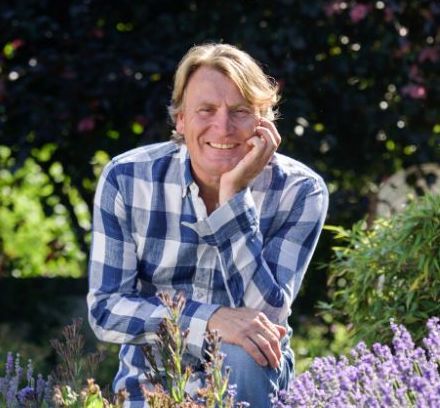 TV gardening personality, David Domoney, has recently been confirmed as the Greenfingers Charity's newest Patron. The role will see David support the charity's work in building magical and therapeutic gardens for life-limited children in hospices across the country.
David has been a great supporter of Greenfingers for many years, giving his time to support for the charity's and initiatives, including Garden Re-Leaf Day, where he has raised awareness through social media, given gardening talks and hosted children's workshops at garden centres to raise vital funds for the charity.
David is an ITV television presenter, and has co-presents with Alan Titchmarsh on Britain's most popular TV garden show 'Love Your Garden' over the last 10 years. He is also the resident garden presenter on ITV's This Morning and presents on Saturday Morning with James Martin. In 2018, David was selected by HRH Prince Edward to receive the Excellence in Horticulture Award. David has also won 30 RHS Medals for garden design, horticultural displays and science exhibits.
A strong believer and prolific public speaker on the benefits of plants and gardens on our mental and physical wellbeing, David has also created educational exhibits, presented on TV shows and regularly written on the topic, promoting the positive power of plants to international audiences.
Speaking about the role, David said; "The positive impact these beautiful gardens have on families at the most vulnerable and emotional times of their lives is a credit to Greenfingers. The charity's tireless work in fundraising and landscaping is mirrored by the generosity of the horticultural industry and I have always found this deeply moving. I have enjoyed supporting this marvellous charity over the years and I am very honoured to take this role of Patron. I look forward to supporting the Greenfingers team in their future activities."
Linda Petrons, Director of Fundraising and Communications at Greenfingers Charity said: "We are delighted to welcome David as our Patron. David is passionate about helping families through Greenfingers and has already done great work to raise awareness of our campaigns and the work the charity does for children's hospices. David's public profile and his enthusiastic approach to gardening will really help us to reach out to garden lovers across the UK and increase awareness of the charity's mission"
David stands alongside an impressive team of Greenfingers Charity Patrons who all play a part in helping to raise the charity's profile and supporting its ongoing initiatives to build inspirational outdoor spaces where children and families can spend precious time outside together, enjoying the relaxing and sensory benefits of a garden. Other patrons include actors Jim Carter OBE, Imelda Staunton CBE, award-winning garden designer, Anne-Marie Powell, as well as garden and landscaper and television presenter Adam Frost.