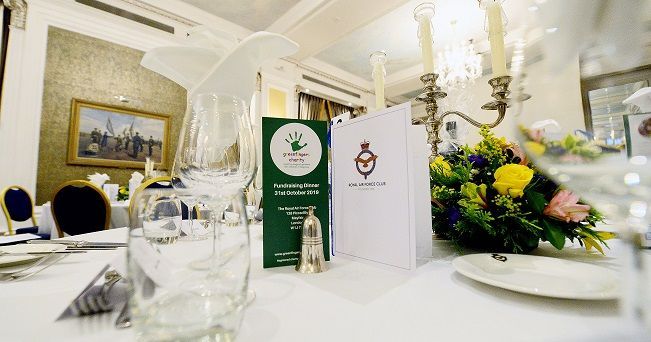 We're adding an exciting sense of competition to this year's Garden Re-Leaf, by giving away two tickets to our glittering Charity Summer Ball for the garden centre which raises the most over the Garden Re-Leaf weekend (Friday 13th – Sunday 15th March 2020).
The Greenfingers' Charity Summer Ball has been newly introduced for 2020 and will take place at the Barton Grange Hotel on June 25th. This exclusive black-tie event will welcome over 150 guests for a night of fundraising, dining, bubbles and networking. Tickets have recently gone on sale priced at £95 each, making this fundraising incentive even sweeter!
Linda Petrons, Director of Fundraising & Communications said: "From quizzes and cake sales, plantathons and café donations, to tombolas, sponsored walks and 'going green for Greenfingers' the efforts that our garden retail supporters undertake is just awe inspiring. This year, to make things even more exciting with a sense of friendly competition, we'd like to give the top fundraising centre two highly in-demand tickets to our forthcoming Charity Summer Ball. We hope this gesture might entice even more garden centres to get involved and connect with Garden Re-Leaf this year."
Get your fundraising pack! Getting involved in Garden Re-Leaf couldn't be easier. Greenfingers has created fundraising packs that can be downloaded from https://www.greenfingerscharity.org.uk/gardenreleaf. These packs are full of ideas regarding how garden centres can make the Garden Re-Leaf weekend a family-friendly and fun fundraising event.
We also offer a wealth of additional collateral that can help garden retailers to make the most of the Garden Re-Leaf weekend, including t-shirts, collection buckets and posters to name but a few. Garden Re-Leaf is also a great local PR opportunity which helps to drive customers into store, and, again, Greenfingers can offer support to maximise this with draft news releases, and advice on which media to contact.
Garden centres already confirmed to participate in Garden Re-Leaf 2020 include Ayletts, Altons Garden Centre, The Old Railway Line, Longacres, Perrywood and Haskins, with many more expected to sign up over the coming weeks.
If you want to find out more about how to get involved in Greenfingers Garden Re-Leaf Day 2020, whether by putting on events in your garden centre, through sponsored solo activities or simply by donating - contact the Greenfingers office on 01494 674749 or email Linda@greenfngerscharity.org.uk.
Tickets for the Greenfingers Charity Summer Ball can also be obtained by contacting the team directly – but hurry as tickets are selling fast!