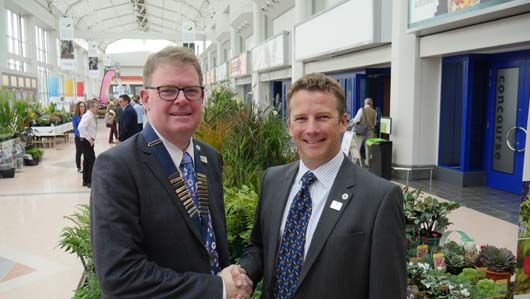 Congratulations to Greenfingers Trustee Boyd Douglas-Davies on his appointment as HTA President at the Annual General Meeting of the HTA (Horticultural Trades Association), which took place at Glee last week.

Boyd Douglas-Davies, CEO of Hillview Garden Centres, has taken over the Presidency from Adam Taylor of Taylors Bulbs who has come to the end of his two-year tenure in the role and moves to the role of Immediate Past President.

Boyd has over 30 years of experience in garden retail. After training at Pershore College Boyd spent 20 years at Webbs of Wychbold during which time the business continuously grew and was recognised as one of the UK's best garden centres. As CEO of Hillview Garden Centres he operates eight garden centres across middle England. A well-known figure in the industry Boyd is a trustee of Greenfingers Charity and founder of our annual fundraising event Garden Re-Leaf Day.

The AGM also saw the following appointments:
· The ratification of James Barnes as Chairman.
· The ratification of the re-appointment of Bob Hewitt as a Director of the Board.
Immediate HTA Past President, Adam Taylor, comments, "I feel extremely proud and privileged to have been able to serve the association over the last two years which has seen great change, both internally and externally. It has been an exciting, occasionally challenging, but always immensely rewarding experience and I would like to thank the HTA Board and Committees for their support, along with the team at Horticulture House. I would like to welcome Boyd to the President's position and wish him all the best for his term of office."
HTA President, Boyd Douglas-Davies, comments, "I feel that this is a very exciting time for the industry – yes there are lots of challenges but with this also comes lots of opportunity. Sustainability is a key area that the industry is working hard on which is hugely important. Let's not forget we are producing a great product in the shape of plants or 'clean air machines'. We need to shout about this from the roof tops to ensure that the buyers of the future continue to come to us for great products that have a positive impact on the environment."
He adds, "I look forward to taking the association through the next two years and encourage all members to play an active role in helping to shape the organisation for the future – ensuring the needs of the industry evolve with the challenges and opportunities that come our way."
We wish Boyd all the very best in his new role.
With thanks to Garden Trade News