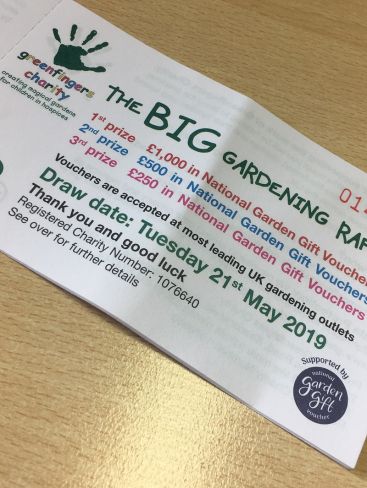 As part of its 20th anniversary celebrations, Greenfingers Charity is delighted to announce an exciting, fundraising raffle, and is looking for FUNdraising heroes to help sell tickets.
The Big Greenfingers Gardening Raffle, supported by National Garden Gift Vouchers, was announced at the prestigious GIMA and HTA 'Cultivating Retail' event, that took place in Nottingham this week.
The raffle will give ticket buyers the chance to win either £1,000, £500 or £250 in National Garden Gift Voucher gift cards. The Greenfingers Charity partnership with HTA's National Garden Gift Voucher Scheme began last Christmas with exposure and awareness of the charity being boosted through the free point of sale material for National Garden Gift Vouchers as well as information that goes through to garden centre staff. The vouchers can be redeemed at most garden centres across the country.
Linda Petrons, Director of Fundraising and Communications at Greenfingers Charity said: "We are enormously grateful to the HTA for their commitment and support of Greenfingers Charity through the National Garden Gift Voucher scheme and of course for the extremely generous prize donation for the raffle. We are looking for an army of volunteers to help sell raffle tickets over the next few months to raise vital funds to help create more gardens in children's hospices, as well as help to raise the profile of the charity with the gardening public."
Martin Simmons, Director of Operations at HTA said: "Greenfingers Charity does really important work, creating tranquil garden havens for life-limited young people and their families. HTA is passionate and happy to support such a worthwhile cause and the raffle is a wonderful way to raise awareness and funds to ensure more of these gardens can become a reality."
The grand draw of the Big Greenfingers Gardening Raffle will take place in May when the winners will be notified and encouraged to spend their prize in participating garden centres in time for the summer. Raffle tickets are priced at £2 each - it is hoped that the raffle will raise £20,000 which will go a long way towards designing and creating another hospice garden.
If you would like to buy raffle tickets, please email Mandy@greenfingerscharity.org.uk or call 01494 674749.