raffle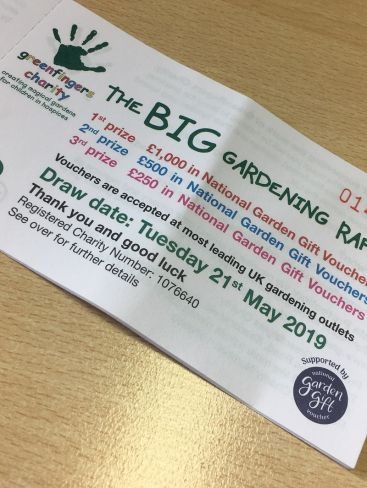 Greenfingers Charity is delighted to announce The winners of The Big Gardening Raffle, which were drawn last week, well done to ...
1st prize Ticket 02651 – D Ilsley
2nd prize Ticket 04125 – A Greenwood
3rd prize Ticket 03002 – J Sims
Winners will be contacted by phone or postal address as supplied.
The Big Greenfingers Gardening Raffle was supported by National Garden Gift Vouchers and gave ticket buyers the chance to win either £1,000, £500 or £250 in National Garden Gift Voucher gift cards.

The Greenfingers Charity partnership with HTA's National Garden Gift Voucher Scheme began last Christmas with exposure and awareness of the charity being boosted through the free point of sale material for National Garden Gift Vouchers as well as information that goes through to garden centre staff. The vouchers can be redeemed at most garden centres across the country.
Linda Petrons, Director of Fundraising and Communications at Greenfingers Charity said: "We are enormously grateful to the HTA for their commitment and support of Greenfingers Charity through the National Garden Gift Voucher scheme and of course for the extremely generous prize donations for the raffle which has raised vital funds to help create more gardens in children's hospices, as well as help to raising the profile of the charity with the gardening public.
Martin Simmons, Director of Operations at HTA said: "Greenfingers Charity does really important work, creating tranquil garden havens for life-limited young people and their families. HTA is passionate and happy to support such a worthwhile cause and the raffle is a wonderful way to raise awareness and funds to ensure more of these gardens can become a reality."
Well done to the winners and thanks to the HTA for the fantastic prizes.