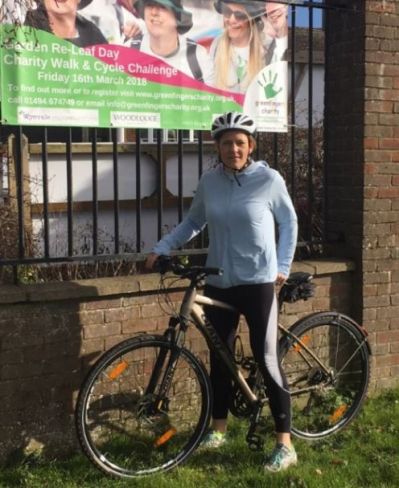 Garden Re-Leaf Day is fast approaching! With just under three weeks until the garden retail industry comes together to kickstart the season and raise much needed funds for Greenfingers, the event organisers are urging interested parties to sign up now and take part before it's too late!
FUNdraising Days
Garden businesses across the country have been busy planning their own FUNdraising events for Garden Re-Leaf Day on Friday 16th March, and across the weekend. Longacres Garden Centre will be going the extra mile with over 40 people completing a sponsored walk which will start at their Shepperton store with a pit stop at their Chobham branch, before finishing at their Bagshot headquarters – a total distance of 20 miles. A family fun day will also be held in store to welcome back the tireless walkers on Sunday 18th March which will include face painting, food and much more!
A team from Hozelock will also be walking 10km for on Garden Re-Leaf Day through the beautiful surroundings of Sutton Park, a national nature reserve close to their Birmingham site.
Klondyke and Strikes Garden Centres are holding six separate 12-hour Plantathons across England to raise money for Garden Re-Leaf. Bob Hewitt, along with colleagues David Yardley, David Abbott, Ian McCavish, Eric Snowden and their staff will continuously plant up containers at their Byrkley Park, Houghton Hall, Stokesley, Lady Green, Garforth and Wilmslow stores.
Staff at Hillview Garden Stores will be putting their horticultural skills to the test with a Plantathon across all 11 of their stores. Each of the Hillview stores will plant 101 spring containers and then the race will be on to see which store can sell them the fastest, with sales going to the charity.
Tates of Sussex will also be organising an exciting fun packed day of activities to kickstart the gardening season at their Paradise Park centre. There will be a quiz for local gardening clubs, an auction of flower arrangements made by a local floristry group, as well as fundraising through the sale of special green cupcakes in the coffee shop and collecting loose change at the tills.
Meanwhile, Bents Garden and Home in Cheshire is holding a Charity Planting Day, giving lucky children the chance to create their very own planted teacup, with proceeds going to Greenfingers. Children are also invited to participate in events at Whitehall Garden Centre, Lacock where for a small donation, they can decorate a triangle of bunting, which once completed will be proudly displayed in Julia's House Children's Hospice.
Many will be putting their baking skills to the test with Downtown Garden Centre, Grantham holding a cake bake sale and quiz instore with a prize for the winner. Elsewhere the staff at Mr Fothergill's will be channelling their inner Mary Berry with a cake sale as part of their fundraising events.
Scotsdales Garden Centre will be holding a Ladies Charity Night at their Great Shelford store which promises an evening of fundraising, fizz, tastings and live music, whilst staff at landscaping company AHS Ltd are organising several fundraising events at their head office in Northiam.
If you haven't registered your event, do not worry – there is still time to do so! As an incentive, if you register your event on the Greenfingers website beforehand, businesses will receive FREE Garden Re-Leaf Day t-shirts, balloons and posters to help promote their events. Businesses will also benefit from free support from Garden Re-Leaf's PR team including press release templates and media lists to help with publicity.
Walk or cycle for Garden Re-Leaf
There has been a great response for the popular Garden Re-Leaf Walk and Cycle starting at World's End Garden Centre and taking in the beautiful Chilterns scenery. Staff from Elho, Poplars Garden Centre, Cadix, Hornby Whitefoot PR, Glee, Woodlodge, Mr Fothergill's, Briers, Deco-Pak, Taylor's Bulbs, Hozelock, HTA and Kew Green Hotels have all signed up to take part and there is still time to join them at the start line.
Sponsors and Promotions
Greenfingers is delighted to welcome CSY Systems, The Landscape Show and National Garden Gift Vouchers on board as Garden Re-Leaf sponsors. They join LOFA, SBM Life Sciences and Groundscare Products, who have all committed their generous support for the day. There are still many exciting sponsorship opportunities available which will provide significant publicity potential as well as positive brand association with the event.
Garden Innovations is selling charity packs of their best-selling Bottle Top Waterers. Inspired by the fun and bright colours and positive outlook of Garden Re-Leaf Day, a donation of 37p per charity pack sold will go to Greenfingers.
Greenfingers Head of Fundraising and Communications, Linda Petrons said: "We have been overwhelmed at the support we have received so far and there is still time to sign up and do your bit for Garden Re-Leaf. Last year's Garden Re-Leaf Day set the bar extremely high with so many participants and fundraising events. We need your help to surpass the total in 2018 and make the lives better for the families and carers with children who have life-limiting illnesses."
For fundraising ideas and inspiration, a free information pack has been produced by the Greenfingers team. To download the pack, register your event or sign up for the walk/cycle, please visit www.greenfingerscharity.org.uk/gardenreleaf.
To enquire about sponsorship, please contact Linda by email linda@greenfingerscharity.org.uk or call 01494 674749/07908 221240.