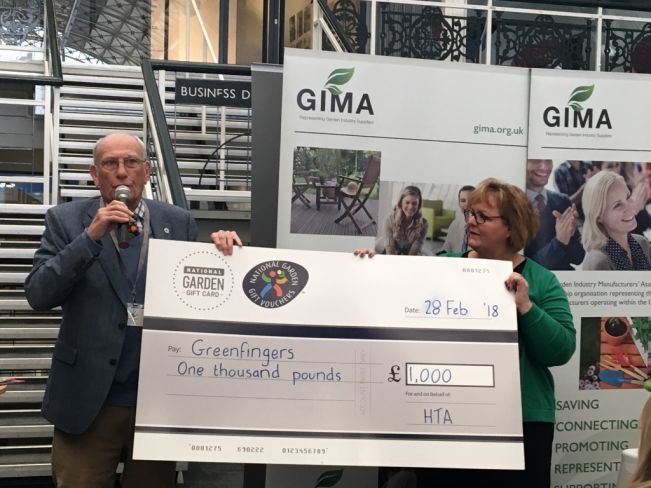 HTA and Greenfingers Charity have cemented their partnership with the announcement of a number of initiatives at the Garden Press Event this week.
HTA presented Greenfingers Charity with a cheque for £1,000 raised over Christmas when consumers made donations of 50p with purchases of National Garden Gift Vouchers. This partnership with the Garden Gifting Schemes is set to continue with exposure of the charity through gifting collateral such as the wallets and information that goes through to garden centre staff.
Also, there will be further collaboration with regard to National Children's Gardening Week, which is supported by National Garden Gift Vouchers and Gift Card schemes, with some of the downloadable activities suitable for use as fundraisers in-store.
HTA Director of Operations Martin Simmons, who has recently become a Greenfingers Ambassador, comments, 'It is great to build on our existing relationship with Greenfingers Charity with these new initiatives. We are keen to help support and raise awareness of the fantastic work carried out by the charity and by linking in with our gifting schemes we can help reach more members and consumers alike.'
He adds, 'We know that consumers that purchase National Garden Gift Vouchers are almost twice as likely as average to be loyal to or help out a charity and so this link up should be of great appeal to gardeners.'
Linda Petrons, Head of Fundraising and Communications for Greenfingers, adds 'We are enormously grateful to the HTA for their commitment to support Greenfingers Charity through the gifting initiative, National Children's Gardening Week as well as Garden Re-leaf Day. We very much look forward to seeing this fabulous new partnership continue to raise vital funds to help create more gardens in children's hospices across the UK and also help to raise the profile of the charity and help us to reach out to lovers of all things gardening."