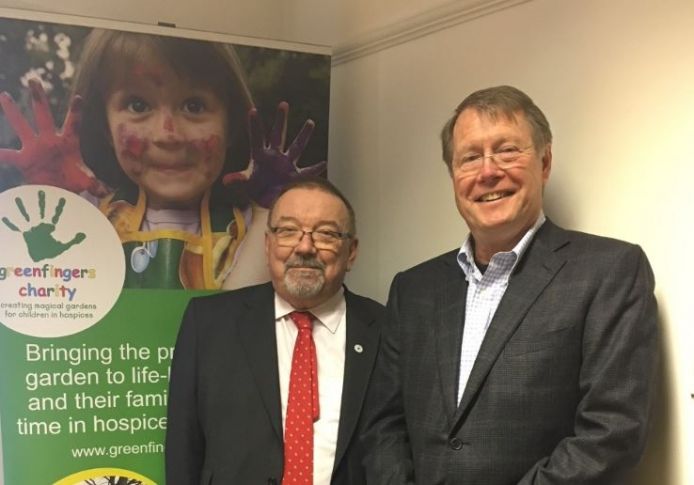 • 2017 FUNdraising totals Half a Million+
• Two new Trustees appointed
• £25000 raised at GCA Conference
• Greenfingers Garden wins prestigious accolade
• John Ashley recovering
For the first time in its 18-year history, Greenfingers Charity announces that FUNdraising for building magical gardens in children's hospices exceeded half a million pounds in 2017 which will ensure more Greenfingers gardens will become a reality.
Linda Petrons Head of Fundraising and Communications said, "We are naturally delighted with this wonderful new total thanks to the continued support of the gardening industry, Kew Green Hotels and hundreds of individual gardeners who know what a difference these magical spaces mean to children with life-limiting conditions and their families. Our aim is to build on this rock-solid base by stretching out more to the gardening consumer and gardening media to help us double our opportunities to build gardens and promote the benefits of gardening to the British public."
Greenfingers is also pleased to announce that Warren Haskins and Colin Wetherley-Mein have been appointed Trustees of the charity.
Warren Haskins, Chairman of the Haskins' group of garden centres has been a long-term supporter of Greenfingers' work building therapeutic and recreational gardens in the grounds of children's hospices over the last 19 years. The management and staff of his many outlets have for many years raised funds through exciting and creative ways that improved both job satisfaction and staff morale. Warren will also take responsibility as Treasurer of Greenfingers Charity.
Colin Wetherley-Mein, National Sales Manager at Vitax since 1995 and recently President of GIMA, has also supported Greenfingers Charity in many ways during his extensive experience in the gardening industry. As a Greenfingers Ambassador, Colin has for many years recruited valuable support for the industry's Garden Re-Leaf weekend. He has persuaded many of his industry colleagues and retailers to create special offers, excitement and promotions. Together they create the first buzzy weekend of the gardening season and plenty of charitable fund-raising for Greenfingers.
In the unfortunate absence of Greenfingers Chairman, John Ashley from the recent GCA annual conference in Stratford Upon Avon, Linda Petrons was delighted to accept a cheque for £25,000 from Mike Lind, Guy Topping and Ian Flounders on behalf of the Garden Centre Association. A great start to the 2018 fund, Linda was delighted to also receive another cheque from Ian Flounders of Woodlodge for £5000. This sum was raised through donations from their stackable gardening pots.
News from John Ashley is that he is recuperating well at home from his New Year operation and should be bouncing back to full health in the next couple of months. Fingers crossed he will be able to join in Garden Re-Leaf activities on March 16th, although he says the 10-mile industry walk from Wyevale's Worlds End Garden Centre in Wendover, Buckinghamshire is not currently on his wish list. But who knows? We very much hope he will be able to fire the starting gun. We all wish him well for a quick return.
We were also delighted to hear the news that the Woodland Walk Garden at Chestnut House Hospice in Arundel, Sussex won a top award at the Society of Garden Designers Awards.
Ann-Marie Powell, Patron of Greenfingers and principal designer of the garden won the top award in the Healing and Learning category.
The judges were highly complementary and said: "This is an absolutely fantastic garden that demonstrates amazing value for money. Gentle, soft and magical, it has been sensitively and creatively designed so that it sits naturally within its woodland setting. This is a role-model garden that children will love."
Built by Garden House Design, the magical garden which is now enjoyed by over 300 life-limited children includes a treehouse nestled in the canopy of the trees where children can enjoy being high up in the woodland surrounded by fresh air and birdsong.
Other key features include a natural clearing of circular decks with tables and chairs where families can spend special time together, giant blackboards for drawing and creative play, a plant amphitheatre where children can feel the textures of mosses and ferns, bug houses and wooden sculptures of foxes and deer and wooden dens bring the outdoors to life.