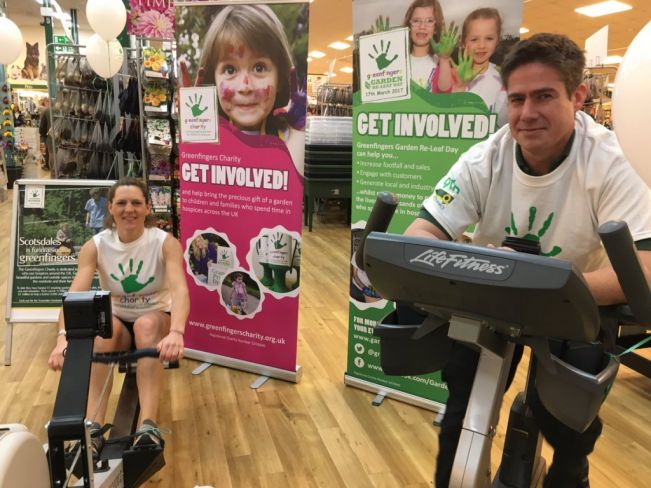 Each year we endeavour to be better, eat better and exercise better. Make this the year you succeed by signing up to one of the Garden Re-Leaf challenges to raise money for Greenfingers Charity.
Shed those festive pounds by signing up for the Garden Re-Leaf Day Walk which will take place on Friday 16th March starting from Wyevale's World's End Garden Centre, Buckinghamshire. You can either take a gentle 10-mile stroll, or complete a more challenging 20-mile route through the Chilterns which is the ideal way to get in shape following the Christmas break.
The popular Plantathon will return with Greenfingers calling for garden retailers across the country to pot up as many plants as possible. This year the time frame to plant as many pots as possible will be 12 hours and promises to be a popular event.
Where does the Garden Re-Leaf money go?
In July 2011, Hillview Garden Store CEO, Boyd Douglas-Davies announced the inaugural Garden Re-Leaf Day at the Garden Retail Awards in London. Now in its seventh year, Garden Re-Leaf Day is the biggest charity fundraiser in the garden industry's calendar and has raised over £500,000.
Positioned as the garden industry's answer to Comic Relief and Sports Relief, the aim of Garden Re-Leaf Day was to celebrate the start of the garden year with fundraising events to raise money for Greenfingers, a charity dedicated to improving the lives of children in hospices through the creation of magical gardens.
For the garden industry, the day creates valuable team building opportunities and brings more shoppers into garden centres earlier to extend the peak Spring season. Garden centre managers, staff and other industry professionals tirelessly set up fun and exciting ways to not only raise money for Greenfingers, but also to promote gardening as an enjoyable pastime.
But where do these vital funds go? Most will already be aware that the money raised is used to build Greenfingers hospice gardens which enable children and their families to enjoy special time together outside enjoying the therapeutic benefits of nature, and away from the bedside.
Greenfingers work exclusively with each hospice to come up with a unique design that suits the needs of the children and families they care for. Each garden is created with top industry designers and landscapers, as well as help from the local community, volunteers and gardening clubs.
In total, 53 Greenfingers gardens have been built since the charity's creation in 1998 with many being funded by monies from Garden Re-Leaf Day. The inaugural Garden Re-Leaf Day in 2012 raised more than £55,000 for Greenfingers, helping a specially designed, family garden to be built at both Robin House Children's Hospice in West Dunbartonshire, and Donna Louise Children's Hospice in Stoke-on-Trent. In 2017, two new gardens were opened – the new Kaleidoscope Garden at Helen & Douglas House in Oxford, which features a colourful and protected garden pavilion that is being enjoyed by patients, their families and hard-working hospice staff.
The Courtyard Garden at Keech Hospice Care in Luton was officially opened by garden designer and Greenfingers Ambassador Adam Frost and featured a multi-coloured soft, but durable, flooring in swirling shapes and will be well used by families who are now able to enjoy mealtimes and activities outside in this new bright and sheltered courtyard.
The most recent Greenfingers garden was started in October by landscaper and designer Jody Lidgard of Bespoke Outdoor Spaces. The pirate themed garden is being built at St Andrew's Hospice in Grimsby, which provides palliative care for children and young adults suffering from progressive life-limiting illnesses.
More gardens are in the pipeline to be built in 2018 but this is where Garden Re-Leaf Day comes into its own, raising much needed funds. The garden industry will be exploding with colour with plenty of FUNdraising activities throughout the day.
Boyd Douglas Davies said: "Garden Re-Leaf Day has resulted in life-limited children and families who spend time in hospices every single year being able to enjoy precious time together in a Greenfingers garden. It's really easy to take part, you can sign up and participate in one of this year's organised initiatives such as the Garden Re-Leaf Walk or Plantathon. Why not organise your own event, and register it so that it can be included in all the media briefings that raise awareness of the cause?"
You can sign up to take part in Garden Re-Leaf Day events or register your own by visiting the Greenfingers Charity website www.greenfingerscharity.org.uk/gardenreleaf
If you want to find out more about how to get involved in Greenfingers Garden Re-Leaf Day 2018, whether by putting on events in your garden centre, through sponsored solo activities or simply by donating - contact the Greenfingers office on 01494 674749 or email Linda@greenfingerscharity.org.uk.