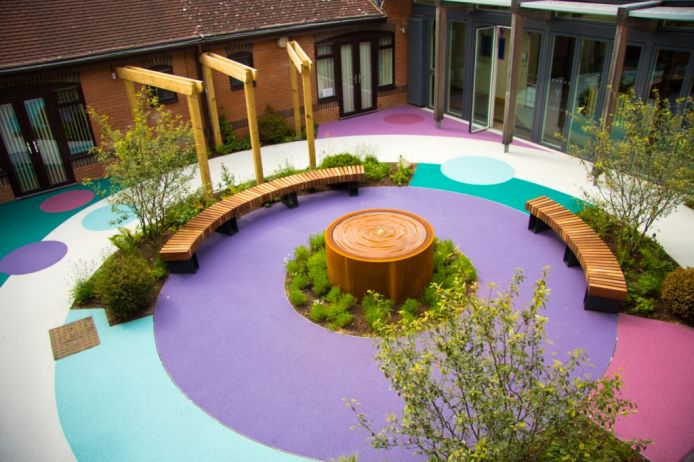 Greenfingers Charity marches on strongly thanks to amazing support from Garden Media Guild members, trade manufacturers, Garden Centre retailers and other gardening supporters such as GCA, GIMA, HTA and LOFA.
Our work, creating gardens for children and families who spend time in hospices, is only possible thanks to your help and all those who continue to generously provide support in a variety of exciting ways.
This year we have opened two new gardens. We are so pleased to hear that children, their parents and siblings, as well as carers and support staff, are really enjoying their new Kaleidoscope Garden at Helen & Douglas House, Oxford, especially throughout our very wet summer! The colourful and protected pavilion provides a unique garden space that is being enjoyed by patients, their families and hard-working staff. Just the sort of thing that justifies the FUNdraising efforts of everyone.
The Courtyard Garden at Keech Hospice Care, Luton was officially opened by Adam Frost, the garden's designer and newly appointed 'Patron' of Greenfingers Charity. The multi-coloured soft, but durable, flooring in swirling shapes is a genius idea from Adam and one that we are sure to recommend elsewhere. The new garden space is being well used by families who are now able to enjoy mealtimes and activities outside in this new bright and sheltered courtyard.
In October work started on the building of a therapeutic garden at Andy's, a palliative care centre for children and young adults suffering from progressive life-limiting illnesses at St Andrew's Hospice, Grimsby. This pirate-themed, wheelchair-accessible garden has been designed and created by Jody Lidgard and his team at Bespoke Outdoor Spaces. Originally from Grimsby, Jody now wants to give something back to his local community and has provided design skills and project management to this Greenfingers garden free of change. This magical activity space is also being supported by the staff and management of British Garden Centres who are locally based. Another team, from Holiday Inn hotel, Lincoln (part of Kew Green Hotels) has spent a day volunteering in the garden and plan to spend more time there soon.
You may be interested to hear that our partnership with Kew Green Hotels over the last 12 months has seen excellent staff engagement across all 55 of their hotels, with the team raising an impressive £100,000 for Greenfingers Charity since the partnership began!
Our plans for 2018 include the phase 2 planting of the Greenfingers Garden at Grace House, Sunderland. This unique space is being created by occupational therapist Sean Murray who won the BBC's Chelsea Garden Challenge in 2015. You may remember his great front garden with parking on Main Avenue, Chelsea? Sean Murray has used his therapy and nursing experience to create an attractive garden with therapeutic benefits in the full knowledge that in a hospice setting a garden must provide solace, scenery and stimulation for all the senses.
Our plans for 2018 include the building of a new garden at Acorn's Children's Hospice in Walsall. Providing palliative care for babies, children and young people from the heart of England, the hospice garden will provide sanctuary for the patients, their families and staff. We are working towards construction starting in spring.
Many supporters have already promised to carry out FUNdraising events during 2018. GMG member Val Bourne will be opening her Cheltenham garden in June to raise money for Greenfingers Charity. She promises a 'Tour, Tea and Talk' for her visitors in mid-summer when her beautiful garden will be blooming to perfection.
Perhaps you could do the same? Many GMG members have found that it's an easy and worthwhile experience. Andy McIndoe provided an evening 'wine and wander' to his Hampshire home and raised more than £4k in just one evening. Launched this year on a small scale (as Greenfingers doesn't receive any support from the National Gardens Scheme), this initiative saw garden lovers opening their gardens or holding garden parties for paying friends and guests.
Could you host a summer party or could you give us some publicity to promote others? It would be so helpful if we could expand the initiative as a nationwide promotion for all things good about gardening.
We're also looking forward to another successful Garden Re-Leaf Day kick starting the gardening season next year. With the Garden Re-Leaf Day Walk now an established event, plantathons, quiz nights and many other FUNdraising activities taking place in garden centres and businesses across the country, there's really something for everyone. Can you help make next year's Garden Re-Leaf Day even bigger and even better than ever? The date for the diary is Friday 16th March 2018.
And what about our plans for 2019? Well Greenfingers Charity celebrates its 20th Anniversary that year. On the QT we hope that with plenty of FUNdraising and a little help from an award winning designer and thoroughly good egg (Ann-Marie Powell) we can build a celebratory May garden overlooking the Thames in SW3. Mums the word until 2019.
For more information about Greenfingers Charity please contact Head of Fundraising & Communications Linda Petrons by email linda@greenfingerscharity.org.uk or by calling 01494 674749 or 07908 221240.