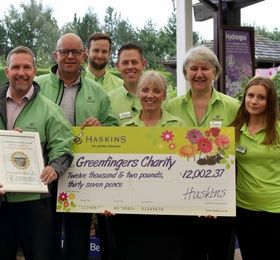 The green-fingered team at Haskins presented Greenfingers Charity with a cheque to mark their most recent donation of £12,002.37.
The fundraising total includes money raised from Haskins' buying director's Wing Walk last month, as well as money raised throughout the year from the sale of carrier bags in all centres.
Conna Powles, group buying director at Haskins successfully completed a sponsored Wing Walk on Sunday July 2. The garden centre's target of raising £1,000 from the Wing Walk was quickly smashed, raising a total of almost £7,000 by the end of the challenge.
In addition, Haskins raised over £5,000 from the sale of plastic carrier bags, following the government initiative to reduce the amount of carrier bags in the environment. With the sale of each plastic bag at Haskins, 5p is donated to Greenfingers.
The presentation of the cheque took place at the end of July and Haskins has since raised a further £831 for Greenfingers.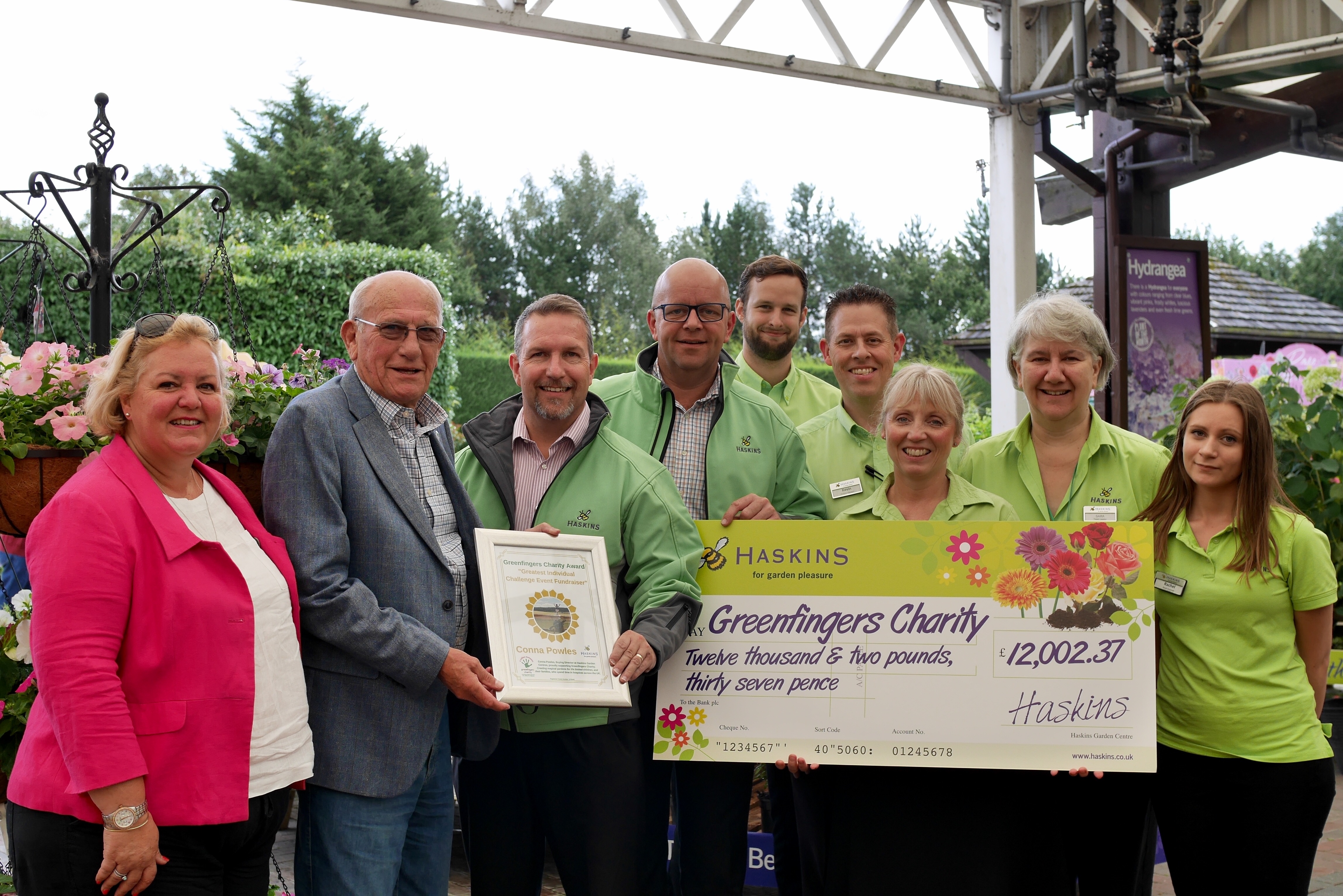 Lisa Looker, brand director at Haskins Garden Centre, commented:
"We're really proud of Conna for taking on this challenge; she was so brave!
"We're so pleased to have raised such a large amount for the charity and look forward to continuing our support of the great work they do across the country."
Commenting on her Wing Walk challenge, Conna Powles, group buying director at Haskins Garden Centre, commented: "I like to complete a challenge or host an event every year for charity. To date I've completed a parachute jump, an abseil, The Moonwalk and now I can tick off a daring Wing Walk.
"After watching a video about the benefits children and families get from having a beautiful space to go to, Greenfingers seemed the obvious choice to support."
Linda Petrons, head of fundraising and communications at Greenfingers Charity, commented:
"We are thrilled to accept this wonderful cheque and would like to thank everyone at Haskins Garden Centres and its customers and suppliers, for together helping to raise such a huge amount.
"The total raised is simply amazing and will go directly to helping us plan, design and create more magical gardens and ensure many more life-limited children and their families who spend time in hospices will be able to create precious outside memories."
Greenfingers is a charity dedicated to supporting children that use hospices around the UK with their families. The charity also creates outdoor spaces to aid therapeutic rest and relaxation at hospices.
Haskins nominated Greenfingers in 2015 to be its national supported charity across all centres. Each garden centre also has an individual charity which it supports.
Haskins Garden Centres is based in Ferndown in Dorset, West End in Southampton and Roundstone and Snowhill in West Sussex. For more information visit www.haskins.co.uk