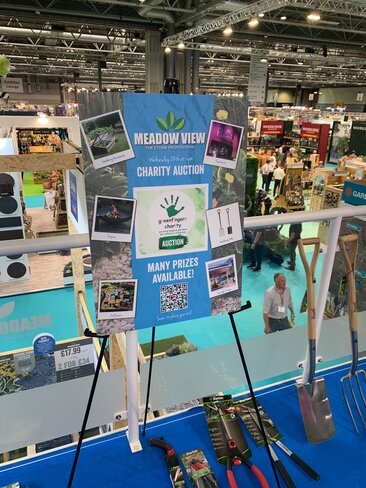 With the Greenfingers Charity celebrating its 25th anniversary next year, it is pleased to gain even more support from the garden retail sector with Meadow View Stone confirming its silver partner status.
To mark its 25 years of creating magical gardens at children's hospices throughout the country, the Greenfingers Charity launched its Silver Anniversary Appeal in 2022 to bring together its supporters to raise an incredible £2,000,025. To help achieve this ambitious target, Greenfingers launched a partnership programme, which has enabled businesses and individuals to pledge their fundraising support for the next three years (or longer), with three new partner 'packages' available – Platinum, Silver and Sterling. The Silver package, which sees £10,000 pledged, is how Meadow View Stone plans to support Greenfingers, with the Shropshire team already well on the way to achieving this.
Silent auction
Visitors to Glee 2023 in late June may have seen Meadow View Stone's first big fundraising event for Greenfingers, with an auction and soiree on-stand on Wednesday evening. From this event alone, Meadow View Stone has already raised over £3,000, with an array of additional fundraising activities on the to-do list.
The team hope to repeat similar success in 2024 and is actively working with Glee's organisers, Hyve, to create an even more significant event. The hope is that through more industry-wide collaboration, including drawing upon the company's connections through the GIMA association, the Meadow View silent auction can become an integral part of Glee's fundraising programme.
Gifts in kind
Over the coming months, the Meadow View Stone team has pledged to support several Greenfingers garden builds with a range of aggregate and landscaping products, the first being at Hope House in Oswestry. Meadow View's Managing Director, Sarah Hill, has recently visited the hospice and hopes to be back with her team to lend a hand.
A team effort
In addition to auctions and products, Meadow View has pledged to include its complete business within the fundraising plans. Some ideas are being considered for office-based events such as coffee mornings, quizzes, Christmas jumper days, and feats of endurance. Watch this space to see what the team decide upon!
Talking about their pledge of support through the Silver partnership, Sarah Hill said: "We chose to support Greenfingers as the charity is very close to our company's heart, with members of our team having had first-hand experience with the lack of facilities available for families coping with severe child illnesses or life-limiting conditions.
"Working with this charity allows us to make a difference to a great cause and connect and collaborate with other suppliers in the industry by creating something truly magical and worthwhile. We passionately believe that greater things can be achieved by greater collaboration, so we would encourage all to support this worthy charity that has a lasting impact on children's and their families lives long into the future - who would not wish to be a part of that?!"
Linda Petrons, Director of Fundraising and Communications at Greenfingers, said: "On behalf of all the team at Greenfingers and all those that will spend time in one of our gardens, we'd like to say a big thank you to the Meadow View Stone team for pledging their support. Their passion for what we do and their enthusiasm for advocating for industry-wide collaboration is extremely heartening. I truly believe they'll be a true asset as we move into our 25th anniversary year."
Linda added: "Reaching 25 years will be an incredibly emotional milestone when we reflect on all the incredible projects we have brought to life. Over the last 20-plus years, we have partnered with some of the most amazing businesses and individuals who help us continue our work year after year. Our Silver Appeal is our most ambitious fundraising project yet, and already we are overwhelmed by the positive response we've received from our partners."
Find out more
To find out how you can support the Silver Appeal, please contact Linda by emailing Linda@greenfingerscharity.org.uk.
You can also join in the conversation by joining Greenfingers on social media - https://www.facebook.com/Greenfingerscharity/, @GreenfingersCha on Twitter, and @Greenfingerscharity on Instagram and LinkedIn.