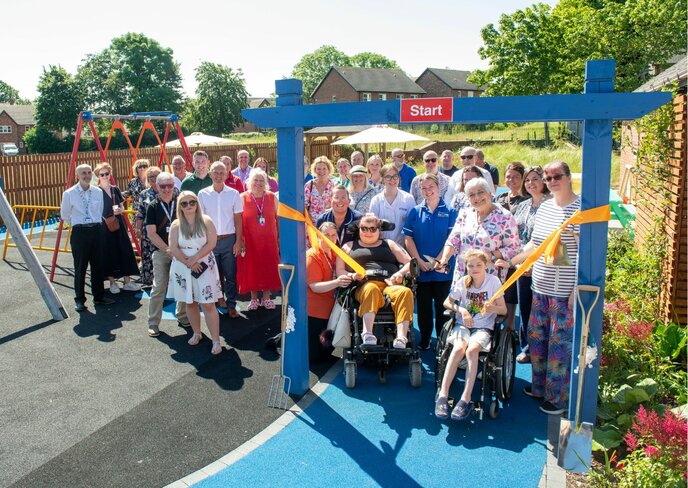 Children, young people and families supported by Jigsaw, Cumbria's Children's Hospice are celebrating the official opening of a special Greenfingers-designed sensory garden which will provide countless hours of fun, laughter and learning.
Taking place on June 15th, the official opening was attended by the team from Greenfingers and many of those who had been involved in the garden build – including Scott Chisholm from Evergreen Garden Care, Neil Cummings representing the HTA, and Nigel Thompson of Sipcam - as well as hospice guests. Together they enjoyed a morning of celebrations as the ribbon was cut by Samuel who attends Jigsaw, and Sue Allen, chair of Greenfingers.
Designed by Bruce Walker and brought to life by the team at Ian Howe Landscapes, the Cumbrian native drew his inspiration from the many colours of the Jigsaw logo, to create several different zones. The superb new interactive garden space is now home to a 'Green Jungle Garden', a 'Yellow Wildlife Garden' and an 'Indigo Sensory Area' for relaxation. This wonderful garden space – a true festival of sensory colours - also includes a bright blue art area, a sage green play area an orange kitchen garden for growing herbs and experimenting with seeds and grow-your-own projects, and even a racetrack.
Funded by the incredible efforts of Greenfingers' passionate and dedicated supporters, with contributions from the Postcode Neighbourhood Trust, Cumbria Community Foundation and others, the garden has been transformed from a tired space into a multi-use garden that is full of fun and laughter - as well as solace and quiet reflection.
Thanks, must also go to the many volunteers that over the course of the build have lent a hand, including Evergreen Garden Care.
Speaking at the opening ceremony, Julie Clayton, CEO of the hospice, said: "Our new garden looks incredible, and we cannot thank Greenfingers and all the other contributors enough for helping to transform this space. What you would've seen as we came out of Covid was a tired and large concrete area which looked like it could do with some love. Now we have a bright, colourful, and engaging garden which is being used regularly by the children and young people with complex health needs that we care for. It's making a real difference and this safe and accessible space is another huge asset to what we can offer here at Jigsaw.
Julie's sentiments were echoed by Greenfingers Chairman, Sue Allen, who said: "Our sincerest thanks to all those who helped to transform the garden at Jigsaw Hospice. It is now a fantastic riot of colour, thoughtfully designed by Bruce, to create areas for both relaxation and fun. This is now a very special garden where many family memories will be made, and I know it has already been joyfully received by the children, family and staff that use Jigsaw."