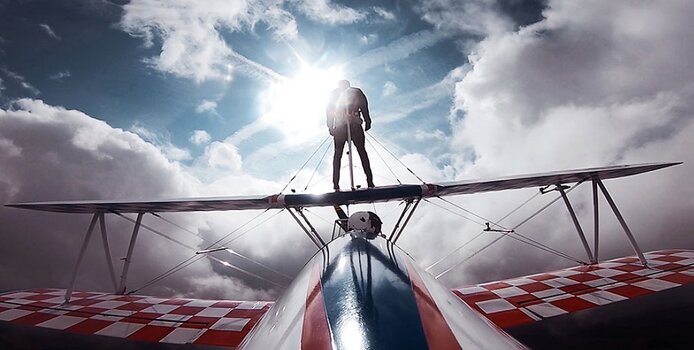 An afternoon strapped to the roof of a plane might sound like a daunting prospect to most, but for seven lucky Greenfingers supporters it's just another afternoon fundraising for the children's hospice gardens charity.
Taking place on July 5th will be the second Greenfingers Wing Walk, an event firmly placed in the calendar by the intrepid wing walkers Vicky Nuttall (GIMA), Mark Portman (Evergreen Garden Care) and Lowri Walker (SBM Life Science) who first took to the skies in 2019, raising over £9,000for the Greenfingers Charity. This year it is the turn of Phillippa Stubbs from British Garden Centres, AMES' Lukasz Kulisa, Katy Thompson, Sam Jarvis and Poppy Jarvis from STV International, and Hornby Whitefoot PR's Kimberley Hornby. Also joining them will be Lowri Walker, back for her second airbourne adventure
These brave supporters have vowed not only to raise funds for the charity but to face their fears and climb 600ft into the air, atop a 1940s Boeing Stearman biplane that was previously used to train pilots during World War II.
Supporting the wing walkers as they swoop across the Cotswold countryside will be the expert pilots from AeroSuperBatics, the team behind the Breitling Wingwalkers, a much-loved display act at UK airshows. On arrival at RFC Rendcomb Airfield, all participants will be briefed before being strapped to the top wing of the historic biplane. Wing walkers will then experience the roar of the plane's 450hp Pratt & Whitney engine – the largest and most powerful engine operated in the UK for wing walking – with the propeller hitting speeds of up to 760mph at full throttle! Once the flight is underway, wingwalkers will only be able to communicate with their pilot via hand signals, as the plane performs daredevil flypasts, zoom climbs, steep dives and banks in front of friends and family. Greenfingers supporters are also welcome to come along on the day to encourage these brave souls!
Talking about why she has joined the wing walk, Hornby Whitefoot PR's Kimberley said: "There is only one charity that could get me strapped to the top of a plane and that's Greenfingers! I adore being part of this fundraising community and am endlessly inspired by how as an industry we come together to raise funds for the charity. Being able to play a part in this and to contribute to 2023's fundraising total is definitely something to be proud of and I hope others will be inspired to get out there, get out of their comfort zones and do something different all in the name of Greenfingers."
To show your support for this year's wing walkers please dig deep and donate via https://www.justgiving.com/campaign/wingwalk23.
Find out more
If you fancy spending the day amongst the clouds, and want to bolster the wing walkers numbers, please reach out to Linda Petrons, Greenfingers Director of Fundraising & Communications by emailing linda@greenfingerscharity.org.uk.