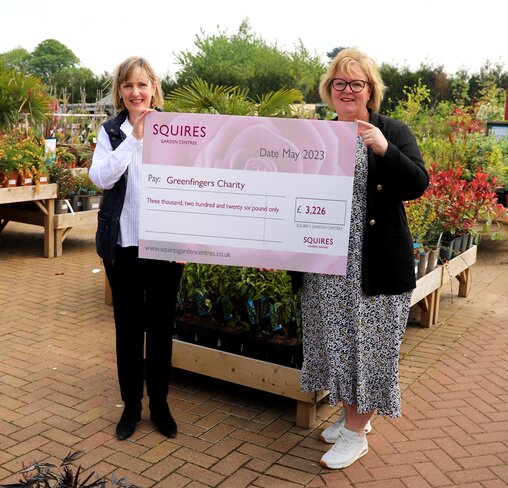 Squire's Garden Centres is pleased to once again make a significant donation to Greenfingers Charity from the sale of carrier bags in its 16 centres over the last year, with the total amount raised £3,226.
Garden charity, Greenfingers, is dedicated to supporting children who spend time in hospices around the UK, with the aim of creating inspiring gardens for them and their families to relax in and benefit from. Squire's donation is the result of carrier bag sales over the last year, with the 10p government carrier bag charge being donated to the charitable cause.
Sarah Squire, Chairman of Squire's Garden Centres, comments: "We are delighted to be supporting Greenfingers Charity once again with our donation, which co-incides this year with the introduction of our home-compostable carrier bags, in support of our continued drive for sustainability.
It's brilliant that the government carrier bag charge can be directed into something sustainable and assist projects that demonstrate worthwhile long-term benefit to many families who find themselves in the most difficult of circumstances. We are sure the money raised will support the invaluable work of Greenfingers Charity and help patients and families explore the wonderful benefits of being outdoors and the value of the natural environment at such a critical time."
Linda Petrons, Director, Fundraising & Communications at Greenfingers Charity, comments: "We are committed to creating specially designed and stimulating garden spaces that can bring many benefits to children with life-limiting conditions. The donation from Squire's will go a long way to support our work and help to make a difference to the lives of children who spend time in hospices – as well as their families and carers. The chance for them to spend time together outdoors, close to nature and away from the bedside, is precious."