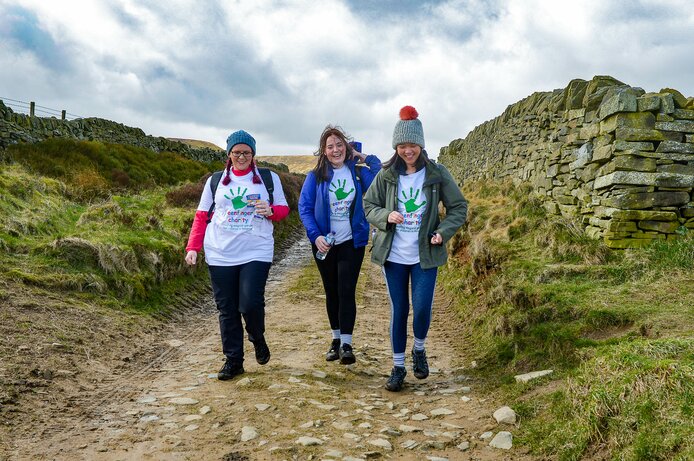 From sponsored walks and cycle challenges to raffles, cake sales and quizzes, coffee mornings, and office activity days, Garden Re-Leaf Day 2023 was one of the biggest Garden Re-Leaf's yet, with a fundraising total to match, with over £70,000 in pledges received to date!
The ongoing support of Garden Re-Leaf Day far exceeds expectations every year, and the 2023 event was no different. This year hundreds of people came out to support the annual fundraising event with suppliers, retailers, garden designers, and even TV programmes placing Garden Re-Leaf front and centre through a host of incredible activities. With so many digging deep to make the day (and the following weekend!) the best yet, it's little wonder that the fundraising total has gone from £45,000 on the day itself to over £70,000 just a few weeks later. What's more, there are still pledges to come in, meaning the total could increase even more so don't forget to send in your monies and sweep up the final donations.
Special thanks must go to all those that took part in Garden Re-Leaf Day 2023 including British Garden Centres, The Old Railway Line, Husqvarna Group, Primeur, Rolawn, Woodmansterne, Perrywood, Haskins, The Klondyke Group, Aylett's, Brookfields Garden Centre, Longacres, St Peter's Garden Centre, Millbrook, QVC, AMES UK, SBM Life Science, , Mulch , Jane Lawler Associates, Tring Garden Centre, Bulldog Tools, Christie & Co, Bellis Brothers Farm Shop and Garden Centre, Leon Boots, Millbrook Garden Centres, Poplars Garden Centre, Mr Fothergill's Seeds, Kings Farm Shop, Garden Trade News, DB landscape Management, Stocksigns, Hozelock, Taylor's Bulbs, Woodlodge, Greenfingers Trustees, Heidi Towse, Richard Claxton and Neil Sewell, plus teams from Vitavia Greenhouses, Capi Europe, Glee, Evergreen Garden Care, and Hornby Whitefoot PR.
Linda Petrons, Director of Fundraising and Communications at the Greenfingers Charity said: "On behalf of all of us at Greenfingers – THANK YOU! £70,000 is an unbelievable sum of money and every single penny will be put to good use. From every bead of sweat and pair of hurting feet to all the overly competitive quizzers, "too many cakes" tummy aches, the miles travelled, and faces painted, know that we and the children, parents and staff that spend time in a Greenfingers garden will be forever grateful for your generosity."
Since launching in 2012 Garden Re-Leaf Day has raised over £800,000 in the UK, AND over £1m has been raised globally. To get involved in the 2024 event be sure to mark March 15th in your diaries.
Find out more
To find out more about the wonderful work the Greenfingers Charity undertakes please join in the conversation by joining Greenfingers on social media https://www.facebook.com/Greenfingerscharity/, @GreenfingersCha on Twitter, and @Greenfingerscharity on Instagram and LinkedIn.