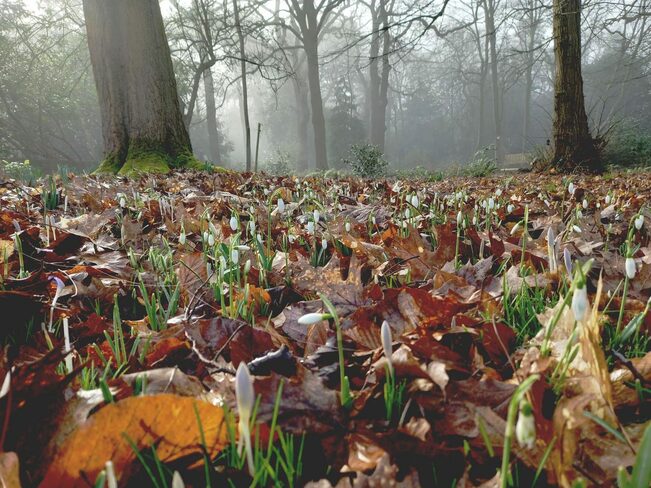 Over the years, there has been increasing recognition of the benefits of horticultural therapy. From the well-documented health and wellbeing benefits of being in woodland to gardening as therapy, outdoor green spaces are proving crucial in so many settings but, arguably, none more so than in children's hospices. Greenfingers has been helping to create inspiring gardens in children's hospices now for almost 25 years, providing patients and their families with a place to spend time with one another, interact with nature, create memories, and benefit from horticultural therapy and outdoor learning; all whilst offering an escape from the rigours of hospice life. We talk to garden designers about what inspired them in projects they have worked on with Greenfingers and highlight the role these incredible spaces play, not only in the lives of those who use the hospice, but to the local community as a whole.
Inspired spaces
When tasked with creating a vital outdoor environment for somewhere like a children's hospice, where does one start? Ann-Marie Powell, who designed a garden at Chestnut Tree Hospice in Arundel in West Sussex, says that she tried to get inside the minds of the children who would be using the space in order to build something that would really engage them: "I wanted to know what really ignites a child's interest. What's really important is that a lot of children don't get to spend time in an outdoor space, so I really wanted to get them outdoors enjoying the biophilia of nature, the eco system, simple stuff that we take for granted. It's so special working with Greenfingers; we are showing children the everyday in all its glory."
Discussing the space she designed at Chestnut Tree, Ann-Marie says: "The hospice was gifted a section of woodland, but it wasn't accessible. Getting children to experience things like bark, shafts of light, the sensory stuff about a woodland was really important to me.
"I didn't want it to be too manicured. I wanted children to really experience what a woodland is like. We created a snaking, meandering path, so the children can wander and really explore. I wanted them to feel they had superhero skills; that they were in charge of their own destiny and could choose where to go. We also built arches for them to go through, so it's like going through into another world. We had bug hotels and then built a tepee they could use as a secret base. We installed blackboards for them to record secret notes or write whatever they're seeing in the garden at different times of the year. We even put little doors on the trees, which the kids absolutely love."
Victoria Wade, who created a garden at Ty Hafan hospice in Wales details her design and inspiration: "It's such a beautiful setting where they are; by the sea and with woodlands at the end but, of course, they are not able to get out to the woods, so we wanted to bring the woodlands and the wonder of nature into the space for them to enjoy. We really wanted it to be wild and natural; a place where they could really engage with all the plants throughout the changing seasons.
"We enhanced that feeling of being in a woodland environment by using mounded-up ground so that the trees are higher. It feels more dramatic, especially if you are in a wheelchair. We used hazel trees, crab apples and other native trees that are all great for local wildlife. Under the tree canopy, we then planted lots of woodland species."
Accessible and inclusive
A key consideration for these gardens is to ensure the space is accessible, so users of all abilities can get out and enjoy it. To this end, each individual hospice works closely with the designer and provides a list of wants and needs. Often, designers also spend time with families who use the service to gain their perspective.
Dan Bowyer who designed the garden at Richard House Hospice in Beckton, London, explains: "Some children just come to spend the day there, while others will be more long-term patients or could be there for end-of-life care. We wanted our garden to be as inclusive as possible. Some children will have older or younger siblings who come to spend time with them and we want them to be able to access the same parts of the garden as their siblings. It has to be multi-functional but also needs to be attractive because we are creating a space for family to be in and sit and enjoy together."
Materials used for pathways have to be strong enough and suitable for wheelchair use and some areas are designed to provide enough space to wheel a bed out to, allowing patients to experience things that they otherwise wouldn't have access to.
Victoria says: "Parents like to be able to sit next to their children, so you need to factor in space next to benches for a wheelchair to fit alongside them; otherwise the only option is to sit opposite each other and that's not the same. It's subtle things like this that I wouldn't have thought about but that are incredibly important to the people using the space and make all the difference."
Ann-Marie Powell adds: "It's also nice to have it so that a parent can sit either side of their child, so you can have the space for a wheelchair in the middle of two benches. That way the child is the centre of attention, as it should be. Children in wheelchairs spend their whole lives watching other people. That's why the gardens have to be inclusive."
Ann-Marie describes the impact these incredible spaces have on the people who use them: "I've had letters from parents who told me they'd never been able to explore a woodland with their child before but this garden had given them the opportunity. It changes lives and relationships, opens up new things they can do together.
"Gardens and nature should be accessible to all humans. I believe that is a human right. If a child is life limited, surely they have even more of a right!"
Getting outdoors
One of the biggest perks of green spaces is just being outdoors, enjoying the fresh air, the sights and sounds and taking a break from the same four walls indoors. This can provide a real escape for people, whatever their circumstances.
Greenfingers trustee Richard Claxton is extremely passionate about the therapeutic benefits of gardens and horticulture. A trained GP and now garden designer, Richard strongly advocates the use of this therapy to treat a variety of mental and physical ailments. "There are so many benefits: there's the physical experience of being outside, breathing fresh air, the gentle exercise, vitamin D from sunlight, then there's contact with the soil, which improves serotonin levels. It's also about connecting with nature and the ecosystem."
He continues: "There is lots of data around health benefits, from increasing life expectancy, to reduced risk of diabetes, gut health, etc. Historically, gardens at hospices have been more about pleasant places to spend time. Now they are doing more for the less poorly people who use it as a day centre."
Victoria adds: "Being outside and in a garden is so uplifting. Even if the weather is a bit rubbish, just being outside helps to reset your nervous system. When you feel like everything is just too much, it can have an instant calming effect."
Gardening and nature as therapy
Richard believes gardening and being out in nature is a powerful tool to navigate difficult circumstances. He says: "It provides a diversion when there's heavy stuff to be talked about or not to be talked about. For example, it can be very difficult to get people with autism to talk but when you've got a task, neither of you is looking at one another. Instead, you're looking at the same patch of earth, you drill a hole and maybe sprinkle radish seed in it and cover and water. You're not having to look at each other but you are communicating about growing radishes.
"There's something so simple about that and beautiful in what you're doing. You are communicating about a practical task. You're getting new skills and a new world of energy."
He continues: "When you're outside, you're focusing on things like life cycles, that include birth and death, and things that we see and talk about in nature. It's a non-confrontational way of discussing these subjects, and there is a metaphor and philosophy that develops. It is a phenomenally powerful way to broach these topics that families are facing."
A slice of normality
As well as providing access to incredible spaces and experiences that some children may not otherwise get to experience, they also offer a bit of normality, as Dan explains: "Being outside in daylight is good for you, especially in these circumstances. The rooms are beautifully done but they are still like a hospital – it's a difficult environment – so we wanted outside to be a complete escape. When you're staring at four walls all the time, to get outdoors in nature is so important for the mental health of the child and the family. It's a taste of normality.
"Also, you have to bear in mind that this is normal for them. These children don't pity themselves, so they don't want pity – they are getting on with things. That's why it's important they have this space, this slice of normality. They might not be able to get out to a park or similar due their current circumstances, but this space gives them a place to be outside and see beautiful plants and spend time together. It's almost like taking a breath."
Ann-Marie adds: "Hospices are places for living, not dying. It's about saying, 'let's make what time we've got really special'."
Creating a community
The gardens Greenfingers create are a wonderful resource for the hospices, helping to inspire the children and give them and their families a special place to spend time in but, their impact is felt further than people may realise.
"There is a real mix of people who use the space," Victoria explains. "You have the day-to-day users – the children and their families, plus hospice staff – then you have the recently-bereaved families who like to come back and spend time there. They have counselling there and like to connect with families who are going through a similar thing. Ty Hafan has been a big part of their lives and they need that place to come where they feel nurtured and looked after."
She continues: "We also had an amazing group of volunteers, who help to maintain the garden. They are recently retired and all really keen gardeners. They have really taken the space on and I think they get a lot out of it too. It gives them a real sense of purpose."
Richard echoes the sentiment: "In working on the hospice garden design, I got to know all of the volunteers there personally – and they all have their own stories, whether that's grief or their own illnesses. It's a terrific feeling, a real comradery."
Ann-Marie adds: "Greenfingers has wonderful support from local firms and industries and then the hospices have people who want to volunteer. Often, this includes parents because it's good for them to have something to do. It's nice to focus on something else, like gardening.
"People want to help; not everyone can afford to donate money but they can give time. You get a real sense of community and engagement."
Follow Greenfingers for more updates - Facebook, Twitter, Instagram & LinkedIn