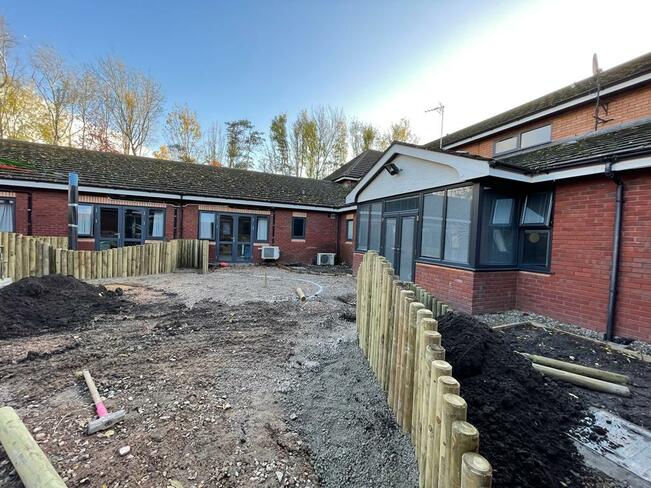 As the sun starts shining and the days stretch longer the nation is starting to think about their gardens again, but one organisation that has had gardens on its mind year-round is the children's hospice garden charity – Greenfingers. Here Linda Petrons, Director of Fundraising & Communications at Greenfingers, provides an update on those gardens that are currently underway across the country.
Haven House - Woodford Green, Essex
The official opening of the new garden at Haven House is set to take place on April 19th. This new 'Reflective Garden' – designed by award-winning RHS Chelsea designer, Tom Hoblyn and built by Stewarts Landscapes - has been designed to create a place where patients, families and friends, and even hospice staff can escape to away from the main hospice building.
Jigsaw Cumbria's Children's Hospice – Carlisle
Designed by Bruce Walker, work on the Jigsaw Cumbria's Children Hospice in Carlisle began in early June 2022 with its official opening set to take place one year later in June 2023.
With the help of Ian Howe Landscapes, Bruce has been busy transforming a dull outdoor space into a fun and stimulating play area for children with complex disabilities and their families. A Cumbrian native himself, Bruce has created a cohesive design using the colours of the Jigsaw logo, featuring a 'Green Jungle Garden', 'Yellow Wildlife Garden' and an 'Indigo Sensory Area' for relaxation. This wonderful garden space will also include a bright blue art area, sage green play area and orange kitchen garden for growing herbs and experimenting with seeds and grow-your-own projects.
Derian House, Chorley
Autumn 2022 saw garden designer, Chris Forshaw, begin to transform the tired courtyard garden at Derian House into a beautiful area for hospice residents and their families. Before the build, the garden was only accessible via the main hospice building and bedrooms, which disrupts the crucial privacy of these areas. Tackling this issue has been the key priority of Chris' design, where a mixture of interactive zones have been designed to link together via a central covered space. Imaginative and subdued lighting and extra seating, which maintains the privacy for bedrooms overlooking the garden, have also been incorporated into the design.
The garden is due to be officially opened by the Mayor of Chorley on 23rd April.
The Nook – Norfolk
Officially opened by HRH, The Duchess of Cambridge in 2019, The Nook is East Anglia's Children Hospice's (EACH) newest site. With a masterplan design created by Gold-medal winning designer Anne-Marie Powell, 2023 will see Greenfingers bring to life the Rest & Reflect Garden, located at the top of the site, where beautifully tranquil spaces will incorporate quiet corners where families can relax together.
This garden has only been possible thanks to generous donations from Clarins, as well as LOFA, the National Garden Scheme, Evergreen Garden Care, Rose Press Garden and designer, Anne Marie Powell.
IN THE PIPELINE
In addition to these ongoing projects, the Greenfingers Charity has more projects in the pipeline.
Demelza Hospice – Sittingbourne, Kent
Based in Sittingbourne, Kent, Demelza Hospice Care for Children is the site of Greenfingers' first-ever garden. Designer Andrew Fisher Tomlin from multi-award-winning garden designers, Fisher Tomlin & Bowyer, is leading the design where a full revamp is on the horizon. The design - once completed – is hoped to feature a bog garden, and a new wildlife safari that will feature wild meadow area pollinators, plus an ant walk and animal highway. This garden, which will become accessible to all those who spend time in the hospice, will also have, what is hoped to be, the largest bug hotel in the whole of Kent!
Additionally, Demelza Hospice is also earmarked to receive some elements from Baz Grainger's 2021 RHS Hampton Court show garden.
Acorns Hospice, Walsall & Hope House, Oswestry
Currently undertaking an internal refurbishment, Greenfingers is poised to begin work on Acorn's new garden space this year.
Elsewhere, at Hope House, Oswestry, where Greenfingers is working alongside landscape architect, Caroline Willits, to create a masterplan design, within with Greenfingers will create one of the garden spaces.
Find out more
You can also join in the conversation by joining Greenfingers on social media - Facebook, Twitter, Instagram and LinkedIn.