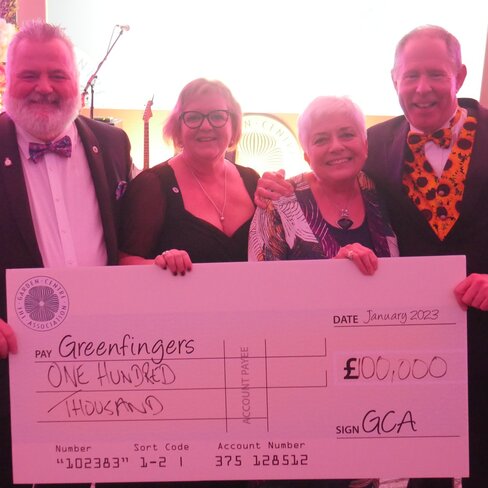 By Garden Trade News
£101,000 was raised at the GCA Conference at the end of last month. What an amazing achievement. Over the course of the last three days, Guy Toppings' big, bold plan raised as much money as the then fledgling charity did in a year when it was set up back in 1999.
Richard Jackson, Greenfingers Charity's Founder President told GTN Xtra: "I can't quite believe it! In our very first year, Greenfingers raised £100,000 and it took the whole year of mass activities by the industry to achieve this. To do this in just a few days is simply staggering. I never dreamed it would be possible. I'm amazed, stunned and absolutely delighted. Huge thanks to Guy and everyone else involved".
The lucky winners of the single raffle prize which cost £1,000 each, were Woodmansterne. "Wow! We are bowled over to have won the grand prize at this year's GCA conference!" MD Seth Woodmansterne told GTN Xtra.
"Since we started working with Greenfingers it has become a charity very close to our hearts at Woody, so we didn't hesitate to answer Guy Topping's call to arms. We are proud to be part of such a friendly and successful industry, and to support such a worthy cause in Greenfingers. Helping raise an extra £17k through auctioning the donated gifts was the icing on the cake!"
Greenfingers Chairman, Sue Allen, wrote the following letter of thanks:
Dear Friends and Supporters
At the end of a week that has been an emotional roller-coaster I wanted to express my thoughts as an individual and also my thanks as Chairman of Greenfingers Charity to so many people and felt that GTN would be the ideal channel.
Those who attended the remarkable GCA Conference in Blackburn will know that on the Sunday evening proceedings were launched with the traditional Greenfingers Challenge Cup between the Pansies (Garden Centre Retailers) and the Cabbages (our suppliers - and this year's winners!). Guy Topping was our more than generous host at The Flower Bowl at Barton Grange where he expressed his determination to raise £100,000 for our charity before the end of Conference.
So, those who attended the Gala Dinner on Tuesday will have experienced the most incredible evening, with Mike Burks as so much more than an M.C. The atmosphere was electric and we were privileged to hear truly eloquent speeches first from Ron Bent, on receiving his honorary membership of GCA, then from his son Matthew, when Bents won the Best Destination Centre of the Year and then from Guy Topping when he and we achieved that magical target of £100k.
They all spoke of what a truly unique industry we work in, although, as they said, it is so much more than 'work'; more a loving family.
We have really felt the love this week as, on Friday, many of us were honoured to be at Poplars Garden Centre to celebrate the life of their manager Alistair Jackson. Hundreds of us - staff, customers, garden centre retailers and suppliers laughed, cried and relished the memories of his times with us in this loving family. All donations in his memory also went to Greenfingers.
It is impossible to thank everyone who has contributed individually not just financially, but in giving time, enthusiasm and energy to ensure the on-going work of creating our magical Children's Hospice Gardens. I am continually amazed by your generosity.
Thank you all so much, Sue Allen
The following were the supporters of the Greenfingers Challenge £100,000 raffle. Thank you to you all.
Associated Independent Stores

Aylett Nurseries

Barton Grange

Bents Garden Centres

Bob Marley

Bosworth's GC

Bridgford Holdings

British Garden Centres

CADIX UK

Cedar Associates

Chessington Garden Centre

Coolings GC

Corby + Fellas

CSY Retail Systems

Davidson Richards

Evergreen Garden Care

Ferndale Garden Centre

Garsons

Geo Hodges & Son Ltd

Gordale GC

Grovewell Garden Centre

Haskins

James Barnes

Klondyke

Knights Plant and Life

Meadow View Stone

Milbrook Garden Centres

Monkton Elm

Newspan

Perrywood

Planters Garden Centre

Pleydell Smithyman

Poplars Garden Centre Ltd

Pugh's Garden Centre

Quinton Edwards

Raglan GC

Ruxley Manor

Scotsdales

Simpsons Inverness

Squire's Garden Centre

St Peters GC

Stratford Garden Centre

Taylor's Bulbs

The Garden Group

The Old Railway Line

The Solar Centre Ltd

Thirsk Garden Centre

Thurrock Garden Centre

Twiggs

Webbs

Westland

Woodlodge

Woodmansterne

YGC Group – Tong