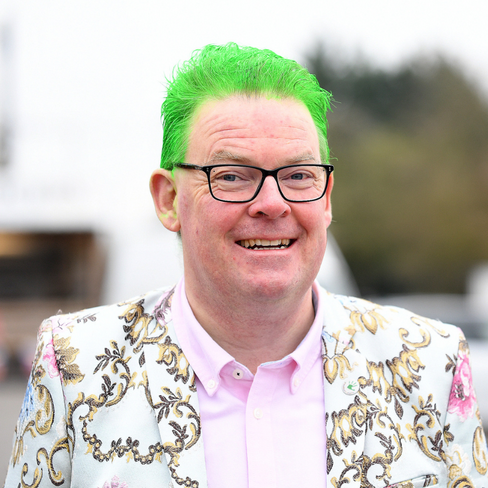 New Year's Resolutions are a hot topic right now with everyone wanting to make the most out of 2023. After the excesses typical of the festive season, instead of going back to the usual daily routine, why not try one of Garden Re-Leaf's ultra-challenges and work towards something meaningful whilst raising money for a worthy cause in the process?
Garden Re-Leaf Day is the annual FUNdraising event for Greenfingers Charity, which this year takes place on Friday 24th March 2023, to help raise vital funds for the charity whilst also kickstarting the garden retailing season.
Plantathons
The annual Plantathons are making a comeback this year and are the ultimate gardening marathon. Can your garden centre staff endure 12 hours of soil filling, planting, watering and feeding to create the best spring container to sell to your customers?
The staff at Squire's Garden Centres were joined by celebrity gardener, Charlie Dimmock, potting over 500 lovely, bright and cheerful spring plants for Garden Re-Leaf and Woking store's opening weekend. Klondyke has also held 12-hour Plantathons in its stores with the sales of potted containers donated to Greenfingers. Orchard Park went the extra mile and went for a staggering 24 hours to raise money from their planter displays!
Other Plantathon efforts were nothing short of extraordinary with Hillview Group's then-11 stores planting spring and summer tubs for an amazing 24 hours. Hillview continued planting in years to come with 101 plants in 1,111 containers in 12 hours in 2017.
We are looking for garden centres, both big and small, to plant from dawn to dusk and have brilliant fun with this challenge. We are also on the hunt for suppliers to provide both plants, compost and containers for the Plantathons. Previous events have seen companies support the Plantathons around the country by supplying labels, pots, plants and compost to create bright spring colours for Garden Re-Leaf. – Not only will happy shoppers take home a beautiful spring floral container but the sundries that toy provide can be upsold with the money being donated to Greenfingers.
Garden Re-Leaf Founder
One person who is no stranger to Garden Re-Leaf challenges is Boyd, now of British Garden Centres. The impact that Boyd has had on the fundraising day since its inception is unrivalled. A former Trustee, now an Honorary Member of Greenfingers Charity, it was July 2011 when Boyd announced the inaugural Garden Re-Leaf Day to the trade at the GIMA Awards, followed by a consumer launch by Alan Titchmarsh at the Garden Media Guild Awards in London.
Boyd had one mission in his mind, to unite the industry at the start of the year with its answer to Comic Relief and Sports Relief and raise vital funds for Greenfingers to enable them to build magical outdoor gardens and spaces for children's hospices. Taking place in March every year, Garden Re-Leaf is also a fun but valuable team-building opportunity for retailers and entices customers into stores earlier to extend the peak Spring season.
Boyd's challenges
His first ultra-challenge was in 2014 when he ran, rowed and rode his way through 240 miles with his Hillview team. Using the Kettler gym equipment that they had in store, Boyd pushed himself to the limit and conquered the distance in just under six hours.
In 2016, Boyd's green fingers were tested when he set himself the challenge of a 24-hour plantathon and raising £1 for each minute of the 24 hours. He was also one of the 100 walkers who took part in the 20-mile walk through Cambridgeshire, which took in Horningsea, Cambridge and finished at Scotsdales Garden Centre in Great Shelford.
Garden Re-Leaf was also taken down under when Boyd spoke at the annual Garden Centres of Australia Conferences in Melbourne and Sydney in 2013. So far over £200,000 has been raised for Beyond Blue, which provides mental health information and support to help everyone in Australia.
And who can forget when Boyd went Green for Greenfingers and sported a rather fetching bright green barnet for the occasion?
In 2021, Boyd undertook his biggest challenge yet – walking 100km in a day from the British Garden Centres office in Brigg to its Harrogate store on a cross trainer! If that wasn't enough, the same year saw Boyd taking on the challenge of wearing 25 Christmas jumpers over the course of 25 days to raise funds for the Greenfingers.
He said: "Greenfingers is a charity that does exceptional work with children's hospices and is very closely linked to the garden trade. I believe people in our industry want to give and they needed a flagship event to make it easy for them to do so. This is how Garden Re-Leaf came into being and without you, we wouldn't have raised anywhere near £800,000 so we are very grateful.
"I set myself these ultra-challenges to test both my mental and physical limits. The challenges I have done are nowhere near the challenge the hospice children and their families face every day and that is my motivation. Doing these challenges makes me feel fulfilled, and I enjoy the social side that Garden Re-Leaf brings every year.
The unbounded effort and hard work the industry put into and then staging all its fund-raising events is staggering but we can still do more."
Linda Petrons, Director of Communications at Greenfingers Charity said: "Without people like Boyd and fundraisers within the industry, we simply could not do what we do. So many industry friends have raised a phenomenal amount of money and the commitment to the charity shown by the stores and suppliers is extraordinary and we never take it for granted."
How to get involved in Garden Re-Leaf Day 2023
Registration for the 2023 event is now live, and Greenfingers is also on the lookout for sponsors for the event. To find out more please contact Linda Petrons by emailing linda@greenfingerscharity.org.uk
FUNdraising ideas for Garden Re-Leaf Day 2023
Here are just a few ways you can get involved and help Greenfingers to continue creating magical gardens in children's hospices across the nation:
Why not hold a 12-hour exercise challenge or a quiz in your café? You could also hold a raffle, cake, or book sale, or maybe host a car wash in your car park.
For more FUNdraising ideas or to obtain a copy of the 2023 fundraising pack drop Linda a line - she would love to hear from you.