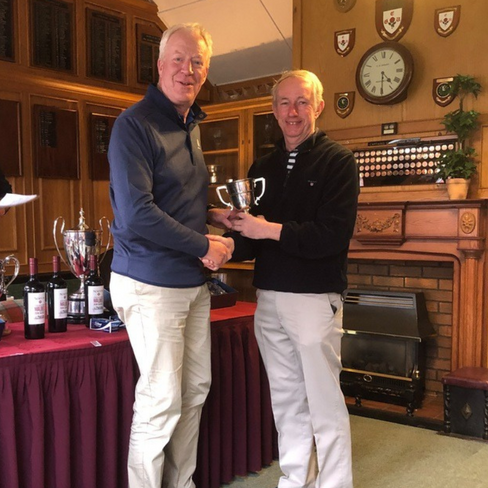 Calling all golfers, the forthcoming Horticultural Golfing Society's Captain's Charity Day (August 19th) is looking for more players, with the day raising vital funds for the Greenfingers Charity.
Formed in 1929, the prestigious Horticultural Golfing Society's membership is made up of 60% from the horticultural sector and allied industries with the remaining 40% being friends of those horticultural members. The Society is hoping to attract new members within the industry, who must be proposed and seconded, and also have an official club handicap of 28 or less. During each year, the Society has up to 8 events held at some well-known and highly regarded courses including the Berkshire in Surrey and Woodhall Spa in Lincolnshire annually and has long standing links with Walton Heath and Sunningdale in Surrey.
This year's Captain's Charity Day will take place at Moor Park Golf Course in Rickmansworth, Hertfordshire. Crowned Golf Club of the Year at the Club Mirror Awards 2019 and the proud winner of 59 Club's Service Excellence Award, Moor Park Golf Club is one of the most impressive private members clubs in the UK. This year the Captain's Charity Day will see players tackle Moor Park's 18-hole, 72-par 'High Course'.
Roger Head, a long standing member of the Horticultural Golfing Society and recently confirmed as a new Sterling Ambassador supporting Greenfingers' Silver Anniversary Appeal – said: "We are proud to continue to support the Greenfingers Charity and the amazing work they undertake within children's hospices across the country. The forthcoming Charity Day is testament to this fact, and we hope that others from the horticultural industry and their friends will be inspired to join us to not only increase our fundraising total but to consider applying for membership of our society. It's set to be a great day!"
Talking about the event, Linda Petrons, Director of Fundraising & Communications at the Greenfingers Charity added: "Our sincerest thanks to the Horticultural Golfing Society for their continued support, it really does mean the world to us and those hospices we work with. We wish you the very best for your Charity Day and strongly urge golfers from across the horticultural sector to join in the fun as I am sure it will be an unforgettable experience."
Get involved
Anyone interested in joining the Horticultural Golfing Society can find more information at www.thehorticulturalgolfingsociety.co.uk. Participation in the Captain's Charity Day costs £150, including bacon roll/coffee on arrival, 18 hole team event (best 2 scores from 4), three-course dinner and a donation to the Greenfingers charity. Please contact Merv Foulds, HGS Secretary, at mervfoulds@hotmail.com for an application form.