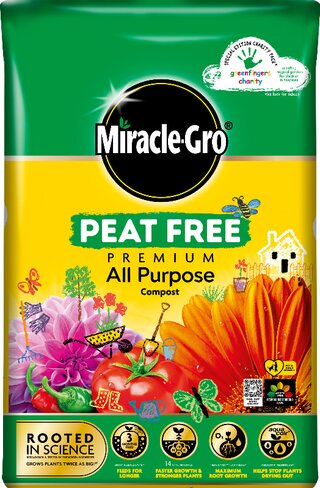 This year, Miracle-Gro has launched a special edition charity pack in aid of Greenfingers, a national charity dedicated to supporting life-limited children and their families who spend time in hospices around the UK. The special edition pack, which is available now in garden centres nationwide, is an industry first, supporting a charity that is close to Miracle-Gro's heart.
What will Greenfinger Charity do with raised money through Miracle-Gro products
Available in stores now, the special edition pack aims to raise awareness of the charity and the incredible work they do for families across the country. On top of their annual support, Miracle-Gro is donating £5,000 to assist with one of the charities latest projects. Greenfingers will be delivering a therapeutic garden within 'The Nook', a purpose-built children's hospice in Norfolk. Miracle-Gro is sponsoring a space within the garden named 'The Nest', which aims to be an outdoor oasis where children and their loved ones can go to rest and recharge.
Why Miracle-Gro thinks Greenfingers Charity is such an important Charity to support
Mark Portman explains;"We are honoured to help support the creation of a magical garden for life-limited children and their families. As a business, it's important for us to give back. We know how precious spending nature can be and to be able to help fund a space for families to create these memories is very special."
Linda Petrons, Director of Fundraising and Communications at Greenfingers, explains how the support from Miracle Gro has made a difference to the charity:
"Time spent outdoors, away from the bedside, and being at one with nature is an extremely powerful tool. We are incredibly happy to be partnering with Miracle-Gro at The Nook to create a space which will allow these children to create precious memories with their loved ones outside in nature."