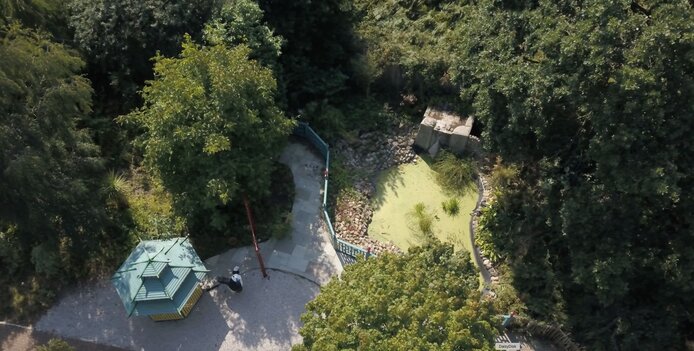 With over 60 stunning garden builds under its belt, the Greenfingers Charity is looking to add even more therapeutic spaces to its portfolio as a number of ongoing projects draw to a close and a selection of new garden builds break ground. Linda Petrons, Director of Fundraising & Communications at Greenfingers provides an update on what 2022 has in store.
COMPLETED GARDENS
Haven House (Woodford Green, Essex)
Haven House in Woodford Green, Essex, is a nurse-led hospice for babies, children and young people under 19 who have life-limiting or life-threatening conditions. The hospice, which provides round-the-clock care, 365 days a year, to the children and their families, asked the Greenfingers charity to help create a 'place to escape to' for the patients, families and friends, as well as the staffing team.
The new Reflective Garden at Haven House is set to be completed any day now, helping to breathe new life into an unused area of woodland at the rear of the hospice
Designed by award-winning RHS Chelsea designer, Tom Hoblyn and brought to life by Stewarts Landscapes, the new garden – almost 300m2 in size - includes a series of board walk style pathways which lead to secluded and private refuges for children, families, and staff to spend quiet time together. The garden has benefitted from two incredible volunteering days, which have helped to bring it together and also provide additional funding. An official opening ceremony will take place later this year.
Ty Hafan (Vale of Glamorgan)
Greenfingers' 63rd garden was completed in November 2021 and will have its opening on Wednesday April 27th, 2022. As one of the UK's leading paediatric palliative care services, offering care to children and support for their families throughout Wales, the new sensory garden – designed by Victoria Wade – offers year-round accessibility and is designed to encourage biodiversity, sustainability and wildlife, helping the children to connect with the natural world. The garden benefits from willow arches, a woodland den, a covered seating area with electricity and hand washing facilities.
The Greenfingers charity is grateful to The Heritage Lottery, the Postcode Lottery and many more friends of the charity for supporting this project.
FORTHCOMING GARDENS
East Anglia Children's Hospices - The Nook (Norfolk)
East Anglia's Children Hospice's (EACH) newest site, The Nook – officially opened by HRH, The Duchess of Cambridge in 2019 – is representative of one of the largest garden projects the charity has ever undertaken, with the three-acre site set to benefit from Greenfingers' support.
The first garden space to be built there will be the new Rest & Reflect Garden, located at the top of the site. Designed by Greenfingers' patron, Anne-Marie Powell, the build has only been possible thanks to a range of generous donations, including from leading skincare brand, Clarins, and the Leisure and Outdoor Furniture Association (LOFA), as well as product donations from Evergreen Garden Care.
This special space – the first of many gardens to be built at The Nook – will feature quiet corners where families can relax together. All of the gardens within the master plan will eventually be connected by wheelchair accessible pathways designed to encourage participation and not just spectating.
Jigsaw Cumbria's Children's Hospice (Carlisle)
This forthcoming garden space will look to transform a dull outdoor space into a fun and stimulating play area for children with complex disabilities and their families. Local designer, Bruce Walker, has been brought onboard to create a cohesive design using the colours of the Jigsaw logo. Bruce's design features a 'Green Jungle Garden', a 'Yellow Wildlife Garden', an 'Indigo Sensory Area' for relaxation, plus a bright blue art area, sage green play area and an orange kitchen garden for growing herbs and experimenting with seeds and grow-your-own projects. This exciting play garden project is earmarked to begin in build April/May 2022.
Demelza Hospice (Sittingbourne, Kent)
Demelza Hospice Care for Children, based in Sittingbourne – the site of Greenfingers' first-ever garden – will see saw Andrew Fisher Tomlin from multi-award-winning garden designers, Fisher Tomlin & Bowyer, take control of this exciting design.
The old garden will benefit from a full revamp including new works to the pond and a new wildlife safari including a wild meadow to attract butterflies and bees, plus an ant walk and animal highway. This garden, which will be accessible for all those who spend time in the hospice, is set to have the largest bug hotel in the whole of Kent.
Part of this revamped garden space may look familiar to some as it will include elements from Baz Grainger's 2021 RHS Hampton Court show garden.
Derian House (Chorley)
Garden designer, Chris Forshaw, has been tasked with transforming a tired courtyard garden at Derian House. The garden is currently only accessed via the main hospice building and bedrooms; places where privacy is of the upmost importance. Tackling this issue will be a key component of Chris' design, where a mixture of interactive zones will be linked together by a central covered space. The design has also included elements of imaginative and subdued lighting and extra seating whilst maintaining the privacy of the gardens outside the bedrooms.
The build at Derian House is set to get underway in autumn 2022.
REVAMPED SPACES
Thanks to a generous donation from a private donor, the charity is now able to revisit hospices it has worked with in the past to ensure that very old Greenfingers gardens continue to be useable spaces. Helen & Douglas House in Oxford, Keech Hospice Care in Luton and Richard House in East London have recently benefitted from the initiative.