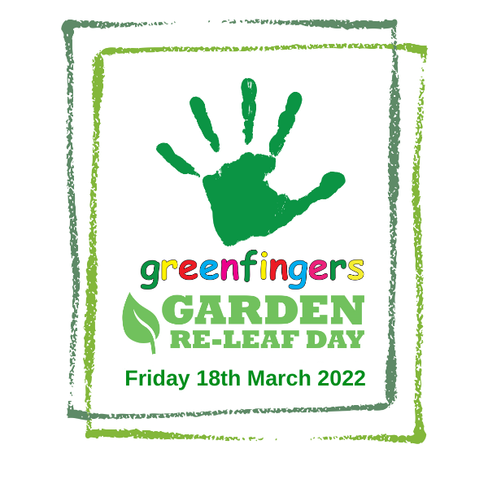 The Greenfingers charity, organiser of Garden Re-Leaf Day, is calling on every garden centre and industry supplier in the UK to take part in the annual FUNdraising event on Friday 18th March 2022, to help raise vital funds for the charity whilst also kickstarting the garden retailing season.
Since its inception in 2012, Garden Re-Leaf Day has been a key event within the garden retail calendar, and to-date has helped to raise over £730,000, all of which has gone towards helping the charity design and create over 60 magical gardens in children's hospices throughout the country.
With less than two months to go before the national industry-wide event, participants are being urged to register their interest now to support this thriving charity day.
Whilst recent Garden Re-Leaf Days have been impacted by the pandemic, it is hoped that the easing of restrictions will encourage hundreds of garden retailers, suppliers and industry supporters from across the country to run a range of fundraising activities on both Garden Re-Leaf Day and throughout the weekend.
In 2021 - Garden Re-Leaf Day's 10th anniversary - FUNdraising activities raised over £77,000 for the Greenfingers charity. Supporters from all corners of the garden retail sector came together (many virtually!) to undertake a wide range of tasks and challenges, including mammoth walking, cycling, running and even skipping challenges, to virtual quizzes, head shaving, product donations, free design consultancy and even mowing contests, showcasing that when it comes to Garden Re-Leaf Day all and any ideas are welcome!
How to get involved in Garden Re-Leaf Day 2022
Registration for the 2022 event is now live, and Greenfingers is also on the look-out for sponsors of the event. To register your event, please click here.
FUNdraising ideas for Garden Re-Leaf Day 2022
Here's just a few ways you can get involved and help Greenfingers to continue creating magical gardens in children's hospices across the nation:
Plantathons are perfect for generating some buzz instore whilst simultaneously generating more stock and donating to Greenfingers. Previous events have included 12- and 24-hour Plantathons.
Hold a virtual quiz, with a minimum donation for all entrants.
Raffles and tombolas are a great way of getting lots of people involved. Gather prizes from around your store, or ask friends and colleagues to donate prizes, before selling raffle tickets ahead of the grand unveiling of the lucky winner!
Cake sales and coffee mornings – are simple yet effective FUNdraisers.
An online auction is a great way to raise funds and involve your friends and colleagues
Team up with friends and colleagues to complete a virtual walk or cycle challenge. Set yourselves a target – 100 miles for example – and work together to achieve it. Walk around your local area, on a treadmill, whatever it takes! Keep in touch via Zoom to keep the group enthusiasm going!
You can register to take part by clicking this link and completing the online form.