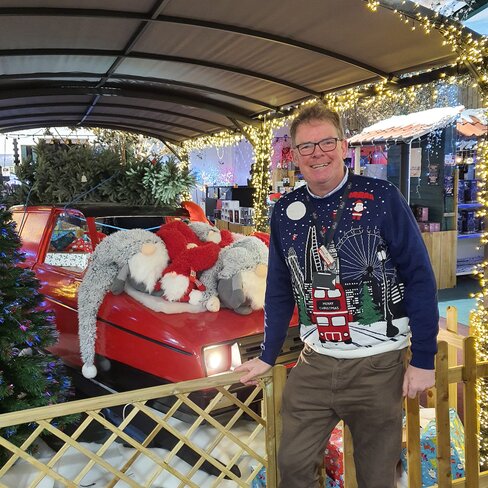 At the beginning of December, Garden Re-Leaf Day founder, Boyd Douglas-Davies embarked on his latest challenge to raise funds for Greenfingers. This time it's not a test of his physical endurance, it's more of a festive fashion challenge which is, and will continue to bring a million smiles to many.
In 2020, the wonderful Nat Porter came up with the challenge to wear a different Christmas jumper everyday from the 1st to 25th December. Handing over the baton, and the jumpers to Boyd this year, the condition is that all jumpers must be worn regardless of the fit. Did we mention that Boyd is somewhat taller than Nat?
Boyd, and Nat, would love you to chip in and support by donating whatever you can afford. It could £7 for 7 days of shockers, double up and make it £14 or go the whole festive hog, or turkey, with a donation of £25. It really doesn't matter how much you donate as every penny raised will make a difference.
Speaking about the challenge Boyd said: "Every jumper is bright, some even sparkly and they're certainly all very, very Christmasy!! Thank you to the day sponsors who have taken on a day each and thank you to all those others who have supported so far."
On behalf of us all at Greenfingers, thank you Boyd and Nat!
To donate, click here.
To find out more about "The Most Jumperful Challenge" click here.