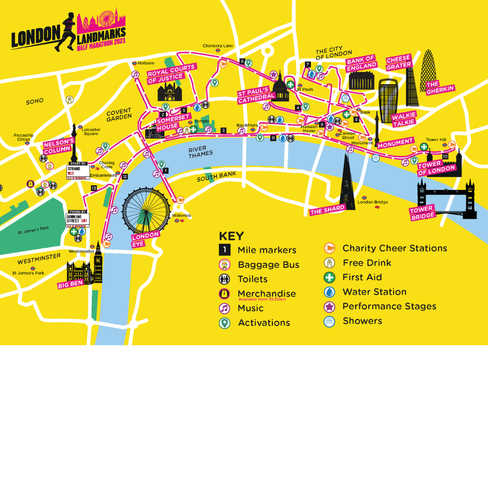 Whether you are looking for a new challenge in 2022, fancy tackling a unique half marathon experience or simply want a new way to support the Greenfingers Charity then the London Landmark Half Marathon (April 3rd 2022) could be the solution you are looking for!
The team at Greenfingers has secured a small number of charity places at the 2022 event, with entry to grab one of these limited (and highly unique!) places now open. Entry is free though the Greenfingers fundraising team ask that a minimum fundraising target of £500 is set. Interested parties are invited to email Linda Petrons, Greenfingers Director of Fundraising & Communications via linda@greenfingerscharity.org.uk to register their interest.
Talking about this exciting opportunity, Linda Petrons said: "Our supporters always go above and beyond to help us raise much needed funds, with activities such as running events and marathons always a popular option. The London Landmark Half Marathon is a really unique event, unlike any other road race, which is why over 14,000 runners take on the challenge each year, and I've no doubt that it will be a popular option for those looking to support Greenfingers in 2022. Whether it's your first marathon or your 100th, this half marathon is one you won't forget in a hurry, and neither will we as every penny raised will make a huge difference to those that get to spend time in one of our therapeutic hospice gardens."
About the London Landmark Half Marathon
Launched in 2014, the London Landmark Half Marathon has been set up to shine a spotlight on not just London's iconic landmarks, but also its quirky hidden gems. The route - which starts at Nelson's Column before taking in such landmarks as London Eye, Big Ben, Downing Street, the world's smallest police station, the largest grasshopper, Guy Fawkes house and so much more – travels through the heart of Westminster and London City, whilst celebrating the rich heritage and culture that shapes our nation's capital.
To keep runners motivated, the route will also be adorned with musical performances, DJs, dancers and themed cheer stations, including a floral themed Greenfingers one! If you're interested in joining our cheer team, please do get in touch!