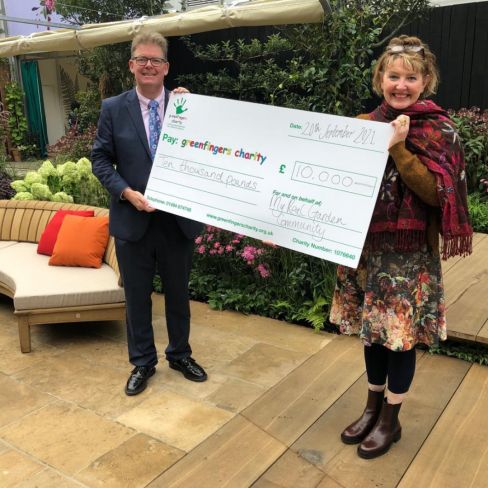 My Real Garden, a unique community gardening book born out of lockdown 2020 and led by award winning garden designer and Greenfingers Patron, Ann-Marie Powell, has raised £10,000 and inspired thousands of new advocates for Greenfingers Charity work. Announced today at RHS Chelsea Flower Show 2021, proceeds will help deliver an ambitious new Greenfingers project at The Nook Children's Hospice.
Written and photographed by over 100 amateur and professional gardeners, My Real Garden is a unique collection of tips, hacks and heart-warming stories that reflect how gardening became mental therapy for the nation during lockdown. Its mission is to make gardening and green space more accessible and inclusive for all.
It all began in March 2020 when lockdown moved Ann-Marie to tackle her own, somewhat neglected garden. As she shared the transformation over her daily Instagram Lives her positivity and practical how-to advice drew thousands of other real gardeners to join a community that today numbers over 25,000 followers from around the world.
Curated by Ann-Marie and Tamsin Westhorpe, the My Real Garden book captures the essence of this community, sharing their passion to inspire new gardeners and raise funds for Greenfingers. The charity is benefiting from immediate book proceeds as well securing long-term community engagement, with some members committed to opening their personal gardens in support.
Funds raised from the book have been ringfenced to help Greenfingers Charity create a a new garden at The Nook, a children's hospice in the heart of Norfolk. The Nook in Framingham Earl is part of East Anglia's Children's Hospices (EACH) and was officially opened by their Royal Patron, HRH The Duchess of Cambridge in 2019. This long-term garden project is part of Greenfingers' mission to bring therapeutic gardens to more life-limited children and families who spend time in hospices across the nation.
The cheque was presented to Greenfingers' Trustee, Boyd Douglas-Davies, in the garden Ann-Marie has created for the Gaze Burvill stand. All plants in the garden have also been kindly donated to the Greenfingers Charity by Gaze Burvill.
Ann-Marie commented: "On occasion beautiful things rise up from ugly situations. When I started My Real Garden I couldn't have imagined how it would grow, produce a book and now help create a magical garden for such deserving families. I'm absolutely honoured to represent this community and thrilled to share their support for your work"
The book is currently on sale at British Garden Centres.