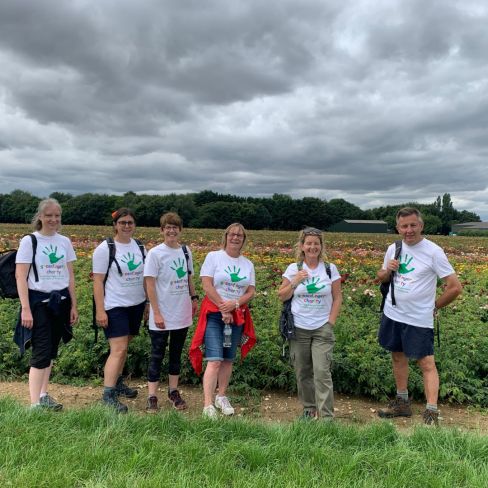 On Sunday 1st August the office team at Whartons Garden Roses undertook a 10 mile sponsored walk around the roses fields to raise funds for Greenfingers. Using quiet country roads and footpaths the circular route took in 75 acres of rose fields in full bloom. It took the team just over 4 hours to complete the route, with plenty of opportunity to stop and smell the roses!
Linda Petrons commented "Whartons have been great supporters of Greenfingers Charity over the years and we were thrilled when we heard that they were going to take on a challenge to raise funds. I am sure a team ramble through stunning fields of roses will have been a great opportunity to enjoy the benefits of being outside and close to nature and at the same time fundraise to support our work. From us all at Greenfingers, we would like to say a huge thank you to the team for giving their time and continuing to help make a difference to our work."
Denise Mba, Whartons office manager commented "The rose fields are so beautiful in summer but we rarely get the opportunity to see them at their best, being busy in the office. The walk seemed the perfect way to see the roses in bloom and raise money for a great cause. We've been bowled over by the support from our customers and suppliers'.
The ramble has raised over £2,000 so far with sponsorship money still coming in. To make a donation visit justgiving.com/fundraising/whartonsroses
Whartons have already raised £8,000 for Greenfingers through the sales of the Rose 'Rosy Cheeks' and their annual Christmas card donation.