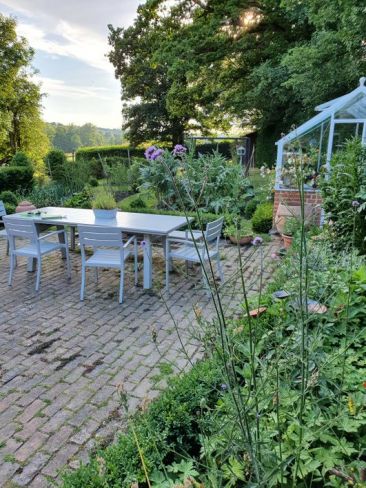 With the easing of lockdown restrictions, supporters of Greenfingers will be pleased to learn that there is an additional way to support the charity – unlocking your garden!
Unlocking your garden couldn't be easier. Simply put, it's a way of opening your garden to friends, family and the local community to enjoy and revel in the fruits of your labour. Whether your garden is a rose lover's dream, a wonder for nature or big enough and manicured enough to give Capability Brown a run for his money, then why not consider showing off your efforts all in the name of charity?
One couple who recently 'unlocked' their garden for Greenfingers was Kent-based Richard and Cheryl Claxton, who, like many, realised the incredibly important value of gardening on both physical and mental wellbeing during lockdown. With their hands muddy and the garden thriving, the couple learnt of Greenfingers via 'My Real Garden' – a special, community-driven garden book penned by none other than Greenfingers patron, Ann-Marie Powell – and felt there wasn't a better time to show their support.
With two acres lovingly landscaped over a seven year period, Richard and Cheryl had a lot to showcase including fit-to-bursting vegetable patches, fruit cages and greenhouse, extensive lawns and patios, a wildlife pond, herbaceous borders, a bog garden and a shady wildflower and woodland area which has started to take shape in 2021. If that wasn't enough, a two-acre paddock with a wildflower meadow, orchard, coppice woodland and thriving polytunnel was also available to see.
Over the course of a weekend, Richard and Cheryl welcomed friends and family, as well as neighbours, to their incredible garden, raising over £2,000 for the Greenfingers Charity.
Speaking about their garden unlocking, Richard Claxton, said: "After realising the importance of our garden to us through lockdown, and how very lucky we are to have one, we decided to open for Greenfingers Charity. We'd never thought of opening our garden before and were a little jittery at the prospect, but it was a fantastic experience to be able to share what we have created with so many lovely people. We couldn't imagine a better fundraising cause than Greenfingers: providing the poorliest of children with wonderful outside spaces to explore, enjoy and connect with nature."
For a virtual tour of Richard and Cheryl's stunning garden, please visit www.justgiving.com/fundraising/Richardclaxtongardens. You can also follow Richard's gardening exploits on Instagram @richardclaxtonsgardens.