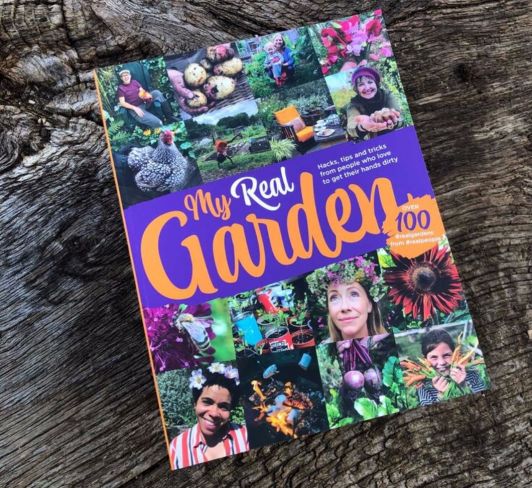 My Real Garden is no ordinary gardening book – it's the first of its kind. It's been written and photographed by over 100 gardeners ranging from children to first time gardeners, experienced gardeners and professionals from across the globe. Together they have created a vibrant and accessible book which shares their gardens and is full of tips, hacks and heart-warming stories that reflect how gardening became mental therapy for the nation during the summer 2020 Lockdown.
On a mission to inspire all, My Real Garden is an inclusive expression of what gardening should be today. It features front line workers who have used their plots to relax, parents who have turned their gardens into outside classrooms, hobby gardeners who are now planning a career change to horticulture and people with ill health that have experienced the healing power of plants. Within the 224 pages you'll find make-do-and-mend ideas, ways to have fun in the garden and so much more – this is real life gardening bound and printed like never before.
So how did all these gardeners meet? They formed a community around RHS Chelsea Flower Show gold medal garden designer Ann-Marie Powell's daily live Instagrams @myrealgarden.
In March 2020 Ann-Marie humbly revealed her garden on Instagram, confessing it was a far cry from a 'show garden'. Her live Instagrams continued without fail for 100 days as she transformed her Hampshire plot. Her positivity and practical how-to advice inspired thousands of other real gardeners to join her with followers from the UK, and countries as far flung as New Zealand, USA and Ghana took comfort in whatever small patch of green space they had. She had successfully created a gardening community.
Launching the book on 23rd March 2021, exactly a year since lockdown began and symbolically the start of the new planting season, My Real Garden - the book captures the essence of this community. It's written in their own words and curated by Ann-Marie and her garden writing friend Tamsin Westhorpe.
My Real Garden has been crowd-funded through advanced sales together with support from the gardening app, Candide, and British Garden Centres Group. Some of the profits will be donated to support the work of Greenfingers.
To buy a copy of the book, click here. A signed copy of the book can be bought here.