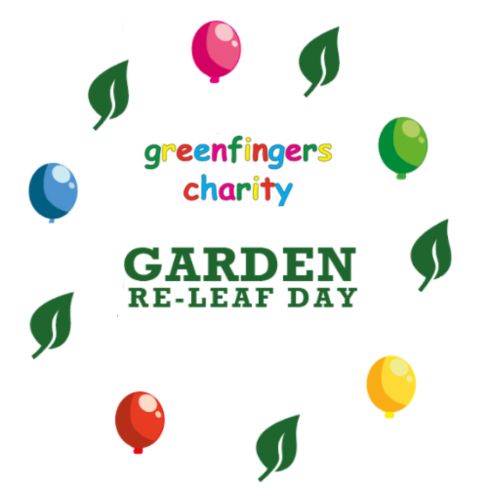 Tomorrow (Friday 19th March 2021) marks the 10th anniversary of Garden Re-Leaf Day and is set to be a day full of fabulous FUNdraising activities, with the garden retail sector pulling out all the stops to ensure that this significant milestone doesn't pass unnoticed!
24hr Challenge for Garden Re-Leaf Founder
Boyd Douglas-Davies, Director of British Garden Centres and the founder of Garden Re-Leaf Day will be spending tomorrow realising that 115km is actually quite far as he tackles the distance on a cross trainer! Talking about the challenge Boyd said: "Wow, the 10th anniversary of Garden Re-Leaf Day has come round so quickly. There's been so many wonderful challenges accepted and completed since we ran the first Garden Re-Leaf back in 2012, so I felt I needed to do something really special this year. With British Garden Centres having just announced its 58th centre (Harrogate), I couldn't see a better challenge than heading there from my office in Brigg Garden Centre. In my head it didn't seem that far, but then 115km doesn't in a car does it?! But to make this challenge a little tougher, the car needs to be avoided so instead I am going to walk the distance on my cross trainer; the cross trainer I have avoided for the last 10 years, so this is going to be a real challenge! 115km in less than 24 hours!"
To show your support for Boyd please visit https://www.justgiving.com/fundraising/boyd-douglas-davies100
Garden quiz to test both your green and general knowledge
Don't worry if you have left your FUNdraising plans to the last minute as the first ever virtual Garden Re-Leaf Day Quiz is taking place tomorrow night. Hosted by the ever gorgeous Greenfingers patron, Anne-Marie Powell, and sponsored by Evergreen Garden Care, the quiz will take place virtually at 7:30pm and is open to everyone. To enter simply email Greenfingers Director of Fundraising & Communications, Linda Petrons via linda@greenfingerscharity.org.uk to secure your ticket. Suggested donation for taking part is just £10.00 per person.
Brave the shave
Tomorrow is the day when Greenfingers Chairman Sue Allen, along with Millbrook Garden Centre's Managing Director/Greenfingers Trustee, Tammy Woodhouse, will be saying goodbye to their lockdown locks as they prepare to shave their heads all in the name of charity. Joining them will be another Millbrook mother and daughter pair, Jo and Danielle who work at Millbrook's Gravesend Garden Centre. All donations can be given here: https://www.justgiving.com/fundraising/sueandtambraveshave
There and back again – 1,206 miles for Garden Re-Leaf
What started as a casual chat amongst friends has turned into a challenge of epic proportions! The Lands' End to John O'Groats crew – made up of Hornby Whitefoot PR, Deco-Pak, Primeur, Garden Trade News, Gardenforum and GIMA representatives – have now doubled their Garden Re-Leaf virtual challenge distance, with a grand total of 1,206 miles earmarked for completion by the end of March!
The 'crew' have been walking, running and cycling everyday of March, and having clocked up close to their original target (603 miles – the distance between Lands' End and John O'Groats as the crow flies) within the first 12 days they decided why not go a little bit further and tackle the return journey as well, totalling over 1,200 miles.
Kimberley Hornby, MD of Hornby Whitefoot PR who helped set up the 'crew' said: "We always thought 603 miles was an ambitious plan but in reality, we have been racing through the miles. As Garden Re-Leaf Day approaches, we saw us reaching our target ahead of time and decided to just keep going. With the remainder of March ahead of us to walk and raise funds, we are confident we can smash our fundraising target and would like to thank everyone who has already kindly donated."
To donate the Lands' End to John O'Groats crew please visit: https://www.justgiving.com/team/LandsEndtoJohnOGroatsvirtualcrew
Tomorrow also marks the day when the team from multi-discipline landscapers, Scotscape – the latest charity partner of the Greenfingers charity – complete their own Lands' End to John O'Groats challenge. The team have set themselves a FUNdraising target of £2,000, with donations welcome via https://www.justgiving.com/fundraising/groundscapewalkingchallenge
Team Greenfingers hit the halfway mark!
The Greenfingers team, made up of Director of Fundraising & Communications, Linda Petrons, Director of Finance & Resources, Sally Jenkins, and Garden Project Manager, Holly Harrington, have reached the halfway mark in their one million step challenge! With another 500,000 to go before the end of the month, why not show them your support by visiting https://www.justgiving.com/fundraising/greenfingersstepchallenge
Also taking on the 1,000,000 steps challenge are: Evergreen Garden Care who will be walking 1,000,000 steps their way: https://www.justgiving.com/fundraising/gardenreleafday2021
And Hozelock, you can find out more at https://www.justgiving.com/fundraising/hozelock
495k Steps Challenge
And Nick Adsett will be challenging himself as he attempts to walk almost half a million steps...on his own...throughout March.
Holly's 50 mile challenge
Holly Parker, the HTA's Learning and Development Assistant has set herself a challenge to walk 50 miles a week throughout March to raise funds too.
Stihl's Minutes Mowed Challenge
To celebrate 10 years of Garden Re-Leaf Day, 10 Stihl reps will be competing against a team from their Approved Dealers, Sims Garden Machinery, both aiming to mow for 1000 minutes over the next ten weeks. To donate £10 to support this challenge, simply text: MOWTEN to 70085 (Texts cost £10 plus your standard rate message).
A+ for effort for team AMES
The AMES team has confirmed that tomorrow staff members from across the business will be coming together to celebrate Garden Re-Leaf Day. With 50,000 steps earmarked for completion by close of play – that's over 20 miles – the day will be focused on bringing the team together for a common goal, with every step – whether walked indoors or out in the fresh air - making a difference. Boosting this excellent team effort will be a generous £1,000 which AMES has already pledged.
Glee-full support
Originally planning to complete the Thames Walk, Glee have had to adjust their plans to meet current lockdown restrictions, however this has not dampened their enthusiasm! Glee's Event Director, Matthew Mein, and Commercial Manager, Daniel McAlpin, are set to walk (socially distanced of course!) between three Kent based garden centres – Coolings, Ruxley Manor and Gravesend's Millbrook Garden Centre (where they will find four ladies showing off their new buzzcuts!). The wider Glee team will also be supporting Garden Re-Leaf Day, together (virtually) walking the distance between Hyve's offices in central London and Glee's 'home', the Birmingham NEC.
10 km for 10 years
Kate Ebbens of Capi UK has pledged to run 10km for Garden Re-Leaf Day, however due to injury she will now run on March 31st. Capi has already pledged £500 but you can further boost Kate's fundraising efforts by visiting http://www.justgiving.com/Kate-Ebbens2.
Klondyke's £1 per pot
£1 from every pot sold at Klondyke stores tomorrow will be donated to Garden Re-Leaf's FUNdraising total.
British Garden Centres
There are a few buckets of Lindt chocolate to be won at British Garden Centre's Tring store. Every raffle ticket sold is a chocolate covered winner!
19 minutes of skipping
Hannah Powell and the team at Perrywood Garden Centre are skipping their way through March. Each day they will be adding one extra minute to her skipping, ending the month on 31 continuous minutes of skipping. This means that tomorrow will see the team complete 19 continuous minutes of skipping! You can support Hannah and the Perrywood team here: https://www.justgiving.com/fundraising/perrywood-garden-centre
Free garden design consultancy
Tomorrow also sees Rob Jones and his team at The Garden Design Company donate a days salary to the Garden Re-Leaf Day grand total. Rob, also a Greenfingers Trustee, and team will be carrying out free design consultations (in return for a donation to support the work of Greenfingers) to coincide with Garden Re-Leaf, with 10 consultations already booked! https://www.crowdfunder.co.uk/garden-re-leaf-day-2021
QVC and its vendors confirm their ongoing support
Supporters of Garden Re-Leaf Day for many years, the QVC family including Richard Jackson and Michael Perry, will continue to use their significant platform to raise funds for the Greenfingers charity. Garden product sales on March 27th will help to increase the 2021 FUNdraising total.
Image Credit: Thank you Daisy Ford for designing and sending us this lovely image to celebrate the 10th Anniversary of Garden Re-Leaf Day.