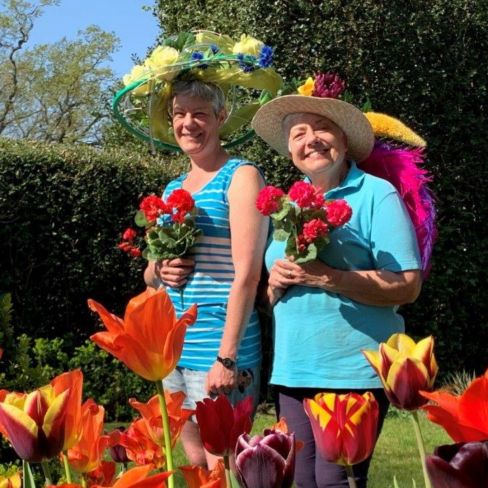 Two brave souls are daring to "brave the shave" this year in support of Garden Re-Leaf Day's 10th anniversary this March (Friday 19th) and the FUNdraising efforts of the Greenfingers charity.
Taking the plunge will be Greenfingers Chairman Sue Allen, along with Millbrook Garden Centre's Managing Director/Greenfingers Trustee, Tammy Woodhouse, who will be saying goodbye to their lockdown locks as they prepare to shave their heads, all in the name of charity.
Speaking about their head-shave, Sue said: "Having become Chairman of Greenfingers just before the charity's biggest fundraising day last year, I couldn't believe how lucky we were to be able to hold the event just before the country locked down for the first time. I am also conscious of the fact that so many of the events we would normally rely on to help raise huge sums didn't take place last year and may not happen in 2021 - the GCA Conference in January, our own Fundraising dinner, our previously planned first-ever Summer Ball and lots more. Despite all our fears, we are so grateful to so many wonderful friends of the charity who supported in so many ways. But the reality is that, even though we could be slowly beating this virus, 2021 will be far more challenging in terms of fundraising.
"So, in an effort to make a big difference on the 10th Garden Re-leaf Day, my daughter Tammy and I have made a huge and somewhat crazy commitment to raise at least £10,000 by having our heads shaved at Millbrook's Gravesend Garden Centre on Friday 19th March to mark Garden Re-Leaf Day.
"It has taken a lot of soul searching and self-questioning before deciding to go for it. However, in part, it is a salute not only to some of those children and families in the hospices we help but also to friends near and far who have experienced hair loss in their battle against cancers.
"If we can raise lots of money to compensate for the income streams, we know we have lost this year, then it will be worth the cold heads, strange looks and the agonising wait for our hair to grow again."
If you would like to support Sue and Tammy's hair-raising challenge, visit: www.justgiving.com/fundraising/sueandtambraveshave