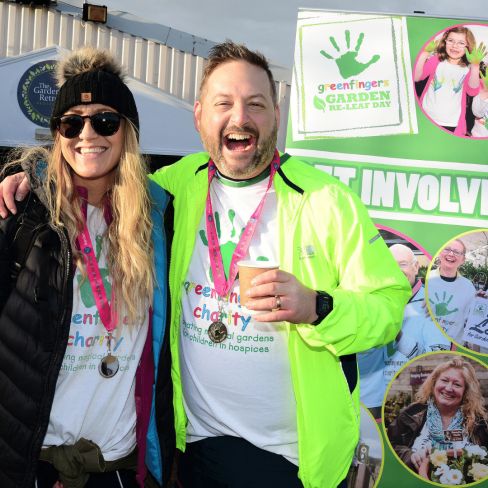 As 2021 picks up pace, it's now only a matter of weeks before we reach the garden retail industry's favourite FUNdraising event of the year – Garden Re-Leaf Day (March 19th). Whilst this year's event will be different due to the ongoing pandemic, that does not mean that the charity's supporters aren't pulling out all the stops! Here we find out more about some of the amazing events which will be taking place throughout March 2021 to help Garden Re-Leaf celebrate its 10th anniversary!
10 miles for 10 years
Kate Ebbens of Capi Europe PV has pledged to run 10 miles on March 19th, with the company throwing their weight behind the challenge with £500. Kate will be clocking up the miles close to home and aims to complete the distance in 1hour 40mins. As if that wasn't enough, Kate has also given up her biggest vice – coffee – for the whole of 2021. To help avoid temptation Kate is donating £1 to Greenfingers for each day she goes coffee-free! You can make a donation to support Kate's efforts here http://www.justgiving.com/Kate-Ebbens2
From Land's End to John O'Groats
A group of intrepid walkers from Hornby Whitefoot PR, Deco-Pak and Garden Trade News have vowed to walk the distance between Land's End and John O'Groats throughout March 2021. Measuring 603 miles as the crow flies, these walkers will be cheering each other on from the safety of their own homes and using video chat to keep the morale high. A special video capturing the efforts of the team will also be made available after the event. Additional walkers are welcome to join in the fun. Please email kimberley@hornbywhitefootpr.co.uk if you'd like to get involved.
The Thames Walk
The team from leading trade exhibition, Glee, are - COVID allowing - hoping to tackle a 51 mile stretch of the infamous Thames Path, all within a day's walking. Leading the pack will be Glee's Event Director, Matthew Meib, who was the originator of the Garden Re-Leaf Sponsored Walk back in 2015. Matthew has completed every Garden Re-Leaf Walk since, racking up 120 miles for the charity to date, one of only two people who have done so!
Get involved in Garden Re-Leaf Day 2021
Since its inception in 2012, Garden Re-Leaf Day has been a key event within the garden retail calendar. Each year hundreds of people from across the industry, including suppliers and retailers, come together to undertake an incredible series of fundraising events. During the last nine years the event has raised in excess of £660,000, all of which has gone towards helping the charity design and create magical gardens in children's hospices throughout the country.
Registration for the 2021 event is now live, and Greenfingers is also on the look out for sponsors of the event. To find out more please contact Linda Petrons by emailing linda@greefingerscharity.org.uk
FUNdraising ideas for Garden Re-Leaf Day 2021
You will find a host of ideas in the Garden Re-Leaf Fundraising pack but here's a few ways you can get involved and help Greenfingers to continue creating magical gardens in children's hospices across the nation:
Plantathons are perfect for generating some buzz instore whilst simultaneously generating more stock and donating to Greenfingers. Previous events have included 12- and 24-hour Plantathons.
Hold a virtual quiz, with a minimum donation for all entrants.
Raffles and tombolas are a great way of getting lots of people involved. Gather prizes from around your store, or ask friends and colleagues to donate prizes, before selling raffle tickets ahead of the grand unveiling of the lucky winner!
Cake sales and coffee mornings – are simple yet effective FUNdraisers.
An online auction is a great way to raise funds and involve your friends and colleagues
Team up with friends and colleagues to complete a virtual walk or cycle challenge. Set yourselves a target – 100 miles for example – and work together to achieve it. Walk around your local area, on a treadmill, whatever it takes! Keep in touch via Zoom to keep the group enthusiasm going!
For more FUNdraising ideas or to obtain a copy of the 2021 fundraising pack drop Linda a line - she'd love to hear from you.