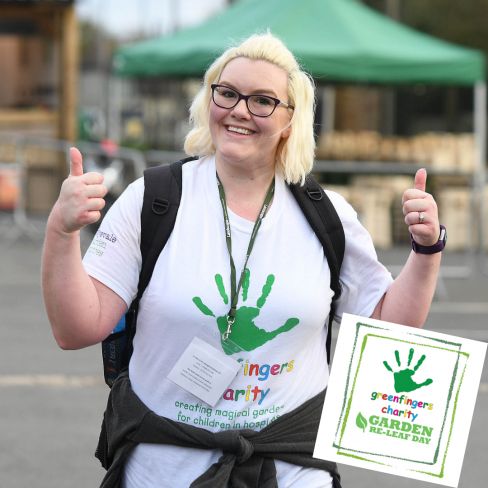 As 2021 unfolds the team at the Greenfingers Charity is looking ahead to another year of FUNdraising and new garden builds. In a year which sees the charity's biggest fundraising day, Garden Re-Leaf, turn 10 the next 12 months are set to be a busy year for the charity and its supporters.
There is no question that the current Covid-19 pandemic will throw many challenges at the charity, however it remains optimistic that its supporters will continue to dig deep as they did throughout the last year.
Linda Petrons, Director of Fundraising & Communications at Greenfingers said: "It would have been perfectly understandable if people chose to not support us in the same way that had previously as the impact of the ongoing pandemic has placed significant financial pressure on many. However, we have been blessed with such incredibly generous and selfless supporters, with many continuing to go above and beyond to support the charity and the work we do in children's hospices across the country. We were truly blown away by the generosity of our supporters during the last 12 months; generosity which is enabling us to continue our much-valued work throughout 2021."
Looking ahead to this year, Greenfingers has ambitious plans as work continues on three incredibly exciting gardens at Haven House in Essex, Ty Hafan in Penarth, Wales, and St. Oswalds in Newcastle, with many more hospices joining the waiting list as the therapeutic benefits of spending time in the garden has come to the fore during the Covid-19 crisis.
Linda added; "Designed by Tom Hoblyn, Victoria Wade and our very own garden project manager, Holly Harrington, these gardens are set to transform the garden spaces of each of these hospices, and we hope will transform the lives of the children, their families and the staff at these. We know from previous projects just how important these garden spaces are, and how much their role has developed during the pandemic. We want to do everything we can to ensure that life-limited children, their families and their carers continue to enjoy and benefit from these stunning gardens."
Garden Re-Leaf Day 2021
Since its inception in 2012, Garden Re-Leaf Day has been a key event within the garden retail calendar. Each year hundreds of people from across the industry, including suppliers and retailers, come together to undertake an incredible series of fundraising events. During the last nine years the event has raised in excess of £650,000, all of which has gone towards helping the charity design and create gardens in children's hospices throughout the country.
This year the event will celebrate its 10th anniversary, with the Greenfingers Charity hoping the garden retail sector will come together once again to help celebrate in style. Like many events, Garden Re-Leaf Day will no doubt look a little different this year and will take on virtual elements to enable more people to get involved from the comfort of their own homes and offices, and to ensure the necessary social distancing can be maintained.
To make things a little easier for individuals and teams working within strict Covid-secure measures, the window of FUNdraising can be extended to the whole of March, with the official date for Garden Re-Leaf Day being 19th March. This extra flexibility provides more opportunity for supporters to enlist the support of friends, family and their local communities, to make the 10th anniversary a great one.
The much-loved Sponsored Walk and Cycle Challenge will be shaped differently this year, with participants invited to walk or cycle from their homes or offices. The normal 10 and 20-miles walk and 100- mile cycle goals will remain, though new ideas are welcomed! Why not go floral or dress up in green to generate some buzz in your local area or commit to walking or cycling further throughout the whole of March to raise even more for Greenfingers?! The possibilities are endless.
Speaking ahead of Garden Re-Leaf Day 2021, Linda, said: "Whilst it's very unlikely that we can be together to celebrate Garden Re-Leaf Day's special birthday, we do hope that our supporters will join us from the comfort of their own homes and offices to get involved in this year's event. With a whole month of FUNdraising, we are excited to see what activities people will undertake. We're already hearing of sponsored walks and runs, including virtual relays that are bringing together people from all corners of the country, as well as virtual quizzes, cake sales and some incredible feats of endurance all in the name of Garden Re-Leaf Day. Whatever you do, please know that we are endlessly thankful for the support and cannot wait to cheer you on this March!"