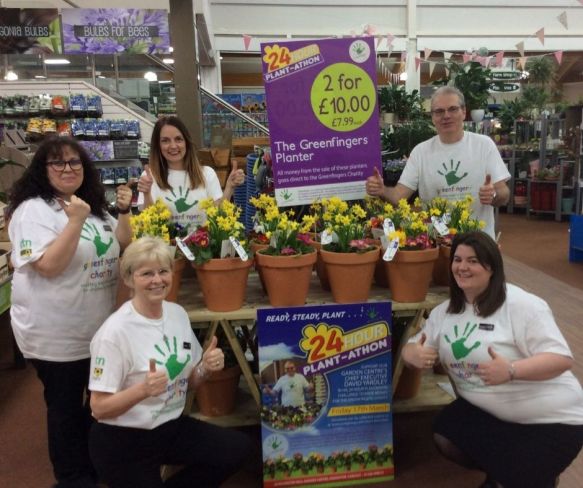 2021 marks a very special occasion for the annual Garden Re-Leaf Day event as this special FUNdraising day (March 19th, 2021) celebrates its 10th anniversary! Looking rather different to previous years as we navigate a new normal, there's still a whole host of different ways to get involved in this ever-popular charity day that not only kick starts the gardening season but also raises much needed funds for the Greenfingers Charity.
Since its inception in 2012, Garden Re-Leaf Day has been a key event within the garden retail calendar. Each year hundreds of people from across the industry including suppliers and retailers come together to undertake an incredible series of fundraising events. During the last 9 years the event has raised in excess of £660,000, all of which has gone towards helping the charity design and create gardens in children's hospices throughout the country.
In 2021, Garden Re-Leaf Day, like many events, will take on a virtual element to enable more people to get involved from the comfort of their own homes and offices, and to ensure the necessary social distancing can be maintained. To make things a little easier for individuals and teams working within strict Covid-secure measures, the window of FUNdraising will be extended to the whole of March too. This extra flexibility provides more opportunity for not just the garden retail sector to get involved, but for supporters of the event to enlist the support of friends, family and their local communities, to make the 10th anniversary event the biggest and best yet.
As well as great activities in garden centres across the country, the much-loved Sponsored Walk and Cycle Challenge will be shaped differently, with participants invited to walk from their homes, offices or local garden centre. The normal 10 and 20-miles walk goals and 100- mile cycle goal will remain, though new ideas are welcomed! Why not go floral or dress up in green to generate some buzz in your local area or commit to walking or cycling further throughout the whole of March to raise even more for Greenfingers?! The possibilities are endless.
Speaking ahead of Garden Re-Leaf Day 2021, Greenfingers Director of Fundraising and Communications, Linda Petrons, said: "Despite all the current challenges, with a growing waiting list of hospices that need our help, we would love the 10th anniversary of Garden Re-Leaf Day to be the best yet. Over the last decade Garden Re-Leaf has become such an important part of not just our fundraising activities, but also for the garden retail sector as, for many, the event marks the beginning of the key gardening season.
"Each year we are blown away by the many ways people support and fundraise for us, and whilst we appreciate we have to do things a little differently, we hope that the 2021 event will be full of unique and exciting activities that will bring us together despite the distance between us all."
How to get involved
Registration for the 2021 event goes live on January 1st, and Greenfingers is also on the look out for sponsors of the event. From t-shirts to fundraising packs, medals to certificates, there are a wealth of sponsorship opportunities up for grabs. To find out more please contact Linda Petrons by emailing linda@greefingerscharity.org.uk
Pull out box – not sure what this means?
FUNdraising ideas for Garden Re-Leaf Day 2021
You will find a host of ideas in the Garden Re-Leaf Fundraising pack but here's a few ways you can get involved and help Greenfingers to continue creating magical gardens in children's hospices across the nation:
Plantathons are perfect for generating some buzz instore whilst simultaneously generating more stock and donating to Greenfingers. Previous events have included 12- and 24-hour Plantathons.
Hold a virtual quiz, with a minimum donation for all entrants.
Raffles and tombolas are a great way of getting lots of people involved. Gather prizes from around your store, or ask friends and colleagues to donate prizes, before selling raffle tickets ahead of the grand unveiling of the lucky winner!
Cake sales and coffee mornings – are simple yet effective FUNdraisers.
An online auction is a great way to raise funds and involve your f
Team up with friends and colleagues to complete a virtual walk or cycle challenge. Set yourselves a target – 100 miles for example – and work together to achieve it. Walk around your local area, on a treadmill, whatever it takes! Keep in touch via Zoom to keep the group enthusiasm going!
For more FUNdraising ideas download a fundraising pack here or email Linda@greenfingerscharity.org.uk