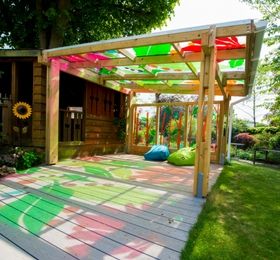 Garden designer and Greenfingers Charity Patron, Ann-Marie Powell, officially launched the new Greenfingers Kaleidoscope Garden at Helen & Douglas House in Oxford on Thursday 11th May in front of hospice staff and patients, Greenfingers Charity supporters and a special party of children from Beachborough Prep School, near Brackley, Northants, who helped to raise the funds to create this exciting outdoor space.
The unique outdoor environment is flooded with a myriad of hues from the specially commissioned structure made from wood and multi-coloured polycarbonate panels created especially for Greenfingers Charity. Designed by Nicola Wakefield (KLC School of Design competition winner) and made by Infinite Playgrounds, the all-encompassing space has been designed specifically so that hospice patients in beds and wheelchairs can have all year round sheltered access to nature.
Speaking to hospice patients and families, Ann-Marie said at the opening. "I am delighted to have been involved in this project right from the outset and it's great to see that the marriage between a Kaleidoscope of colour and a miniature Crystal Palace has produced such a dazzling structure that is great fun for everyone. I know only too well the real difference outdoor spaces mean to families who are facing a difficult hospice journey and so I'm thrilled to be here to open this garden today."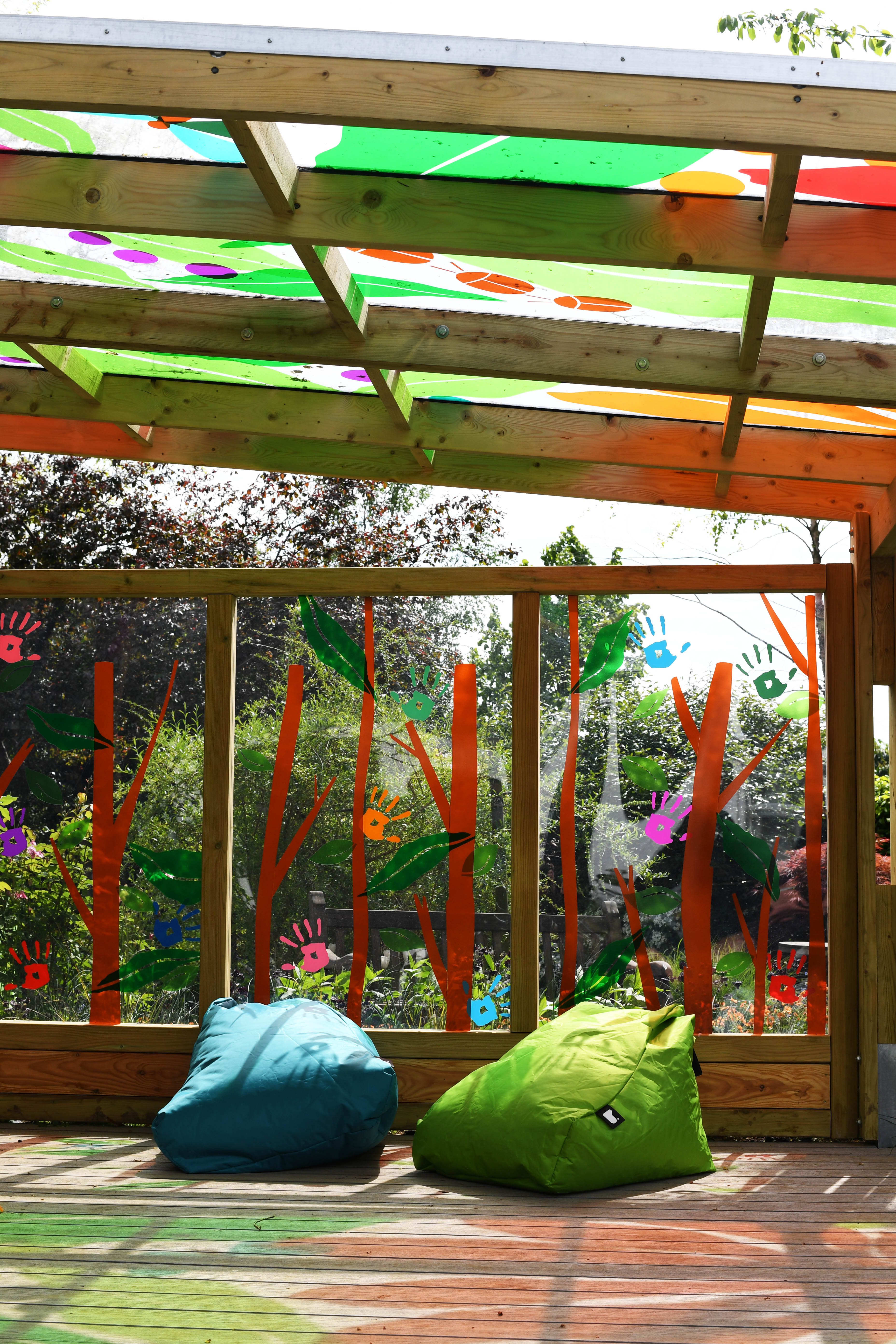 "So, thank you to everyone involved, particularly to the garden designer Nicola Wakefield, Infinite Playgrounds and to GreenArt Garden Design and Landscaping for helping to bring this very precious gift of a garden to Helen & Douglas House. I know the teams at Greenfingers Charity and Helen & Douglas House are very grateful to all of you for your contribution that now graces this wonderful hospice."
Kathy Patching, House Manager at Helen House said that she was delighted to accept the garden on behalf of all the children and hospice visitors and staff who use the garden. She said, "Every garden is a tranquil place that provides an inner peace for all visitors, but this Kaleidoscope Garden is something else. We have found that everyone wants to make repeat visits because they get colourful stimulation and enjoyment whatever the weather. Nobody leaves without a smile on their face."
John Ashley, Chairman of Greenfingers Charity, commented on the opening: "We are absolutely delighted to have created this incredible Kaleidoscope Garden, the structure is simply stunning and it's wonderful to think of the children, particularly those in wheelchairs and beds, and their families who will spend time here enjoying precious time outside sheltered from the elements. The project has meant the hard work and commitment of many friends of Greenfingers to make it happen and we are all extremely grateful for the time, effort and support we have received."
"In particular, I would like to say a million thanks to the children of Beachborough School for raising such a huge sum for this garden by creatively fundraising for a whole school year. Thank you too to our friends at LOFA (Leisure and Outdoor Furniture Association), at Hilltop Garden Store for their very generous contributions, and of course to the many others who have helped in so many ways."
Greenfingers Charity has created more than fifty gardens for Hospices around the UK but this new garden is a very special one. The new section to the Greenfingers Charity recreational and therapy space will enable life-limited children, along with their families to spend precious time together outside in the fresh air, whatever the weather.
As well as funding from grant-making trusts other financial supporters include scores of garden centres and garden product suppliers around the UK who raised funds in a joint, early-spring fund-raising weekend called 'Garden Re-Leaf'.
To view all the photographs from the Helen and Douglas House Gallery, please click here.